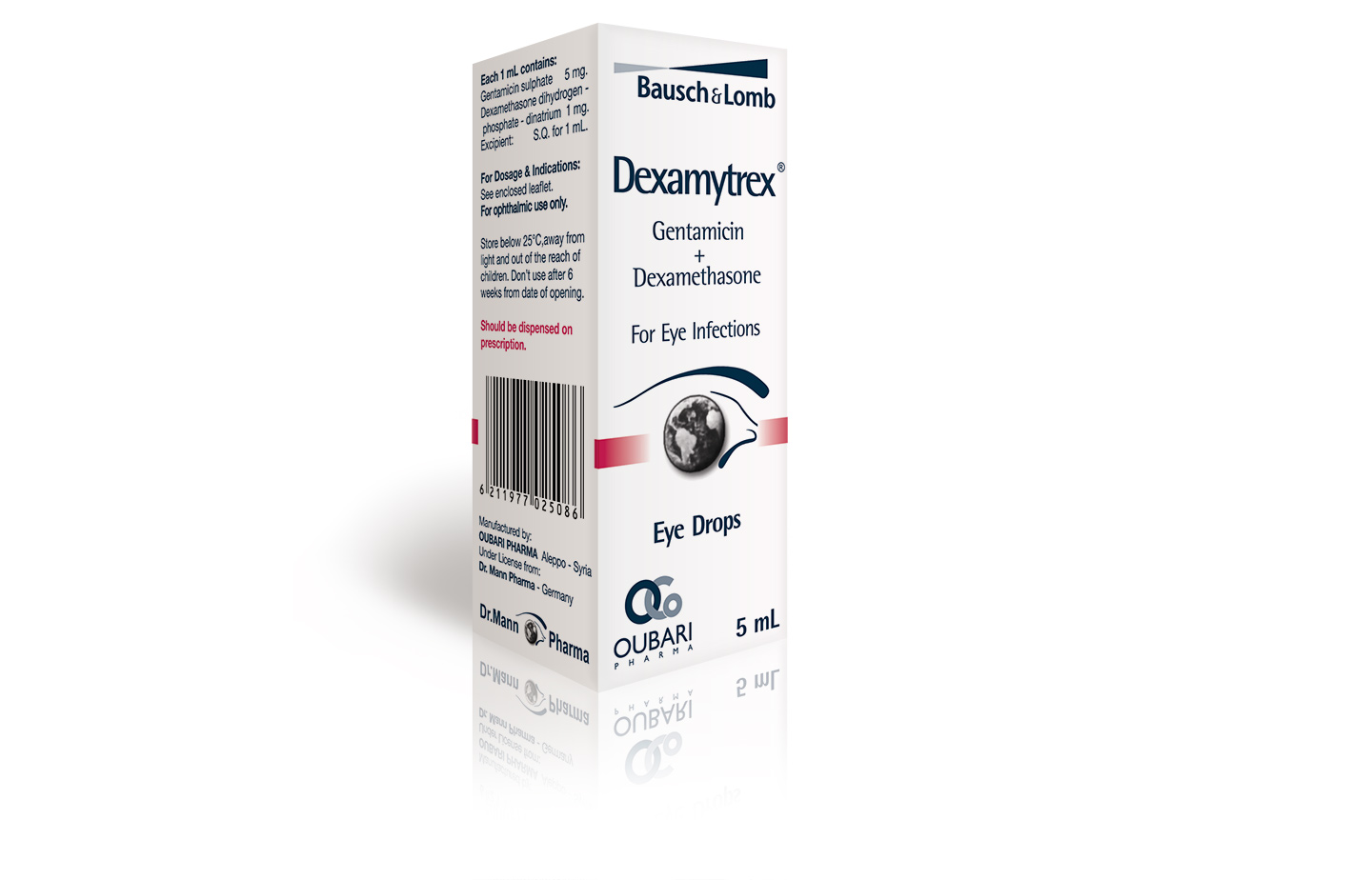 Dosage Form: Eye Drops
License: Dr. Mann
Category: Anti-Inflammatory
Packaging: 5 mL Bottle
More Info
*Packaging design and product name may be different in your country.
Composition
Each one mL of the solution contains :
Gentamicin sulphate: 5.0 mg (equivalent to 3.0 mg Gentamicin).
Dexamethasone dihydrogen – phosphate – dinatrium: 1.0 mg.
Excipient: S.Q. for 1 mL.
Indications
Infections of the anterior part of the eye, that caused by susceptible microorganisms to Gentamicin such as bacterial conjunctivitis, bacterial keratitis without corneal ulcer or erosion, blepharitis accompanied by signs of severe infections.
Severe allergic inflammation of conjunctiva and eyelid.
Dosage & Administration
Use according to the instructions of your doctor, or use Dexamytrex eye drops as follows (follow accurately the instructions of usage):
Amount and number of applications:
If there were no other recommendation by your physician instill one drop in conjunctival sac 4 to 6 times daily.
Method of using the dropper:
Pull the eyelid a bit and install one drop in the conjunctival sac.
Duration of treatment by Dexamytrex eye drops:
The duration of treatment is according to physician instructions, since he closely & regularly observe his patient and according to that he can decide. When the treatment should be stopped, but administration for more than two weeks should be avoided, and regular monitoring of the intraocular pressure should be done during the period of treatment.
*The information provided above is general in nature and for informational purposes only. It is NOT a substitute for the advice of your doctor. You must always consult your healthcare professional before starting any medication/supplementation program.