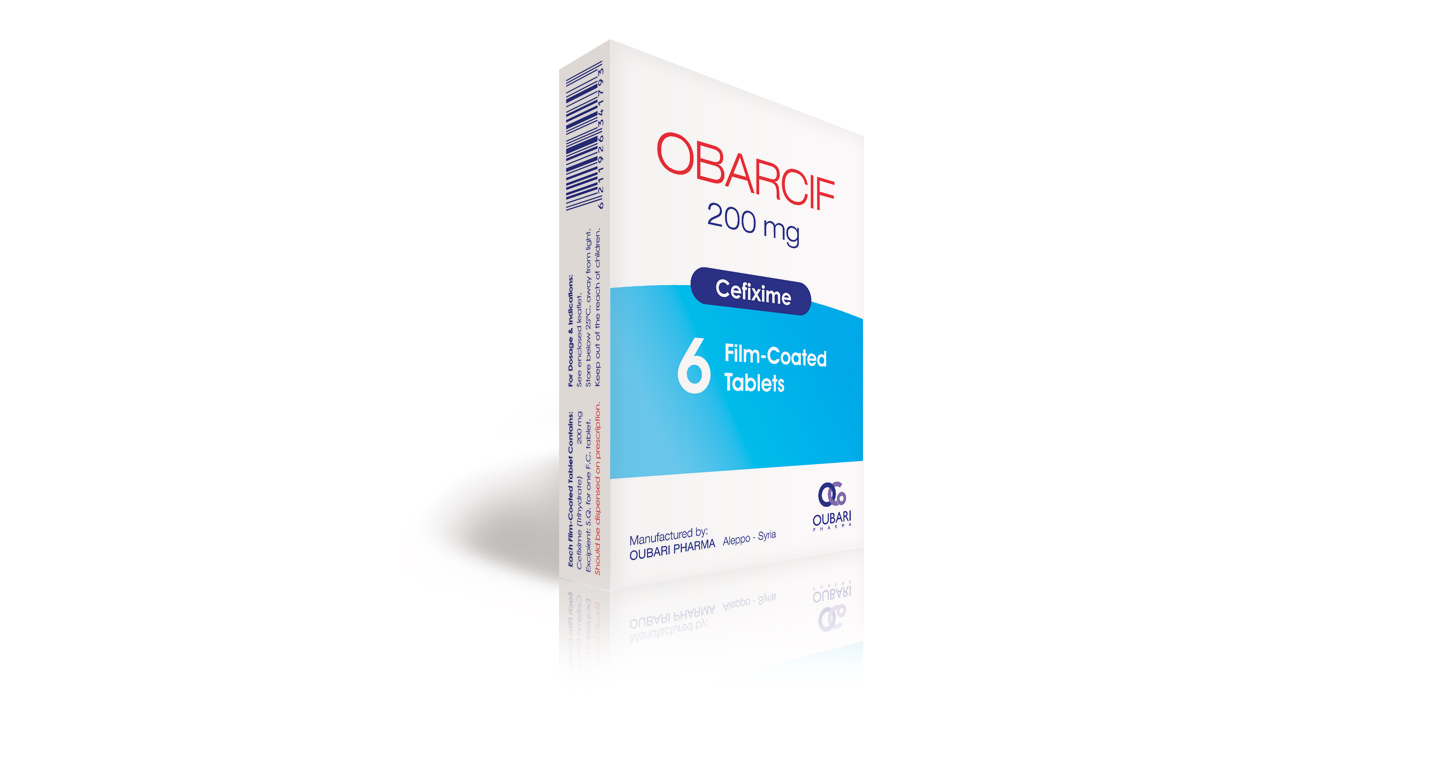 Generic Name: Cefixime
Dosage Form: Film-Coated Tablets
License: Generic
Category: Anti-Infectives
Packaging: 6 Tablets
More Info
*Packaging design and product name may be different in your country.
Obarcif 200 mg – Film-Coated Tablets
Composition
Each film-coated tablet of Obarcif 200 mg contains :
Cefixime trihydrate equiv. to cefixime: 200 mg.
Excipients: S.Q. for one film-coated tablet.
Indications
Cefixime is indicated in the treatment of the following infections when caused by susceptible strains of the designated microorganisms:
Uncomplicated Urinary Tract Infections caused by Escherichia coli and Proteus mirabilis.
Otitis Media caused by Haemophilus influenzae (beta-lactamase positive and negative strains), Moraxella (Branhamella)catarrhalis (most of which are beta-lactamase positive) and S. pyogenes.
Pharyngitis and Tonsillitis, caused by S.pyogenes.
Acute Bronchitis and Acute Exacerbations of Chronic Bronchitis, caused by Streptococcus pneumoniae and Haemophilus influenzae (beta-lactamase positive and negative strains).
Uncomplicated gonorrhea caused by Neisseria gonorrhoeae (penicillinase and non-penicillinase-producing strains).
Dosage & Administration
Adults:
The recommended dose of cefixime is 400 mg daily. This may be given as a 400mg tablet daily or as 200 mg tablet every 12 hours. For the treatment of uncomplicated gonococcal infections, a single oral dose of 400 mg is recommended.
Children:
The recommended dose is 8 mg /kg/day of the suspension. This may be administered as a single daily dose or may be given in two divided doses, as 4 mg/kg every 12 hours.
Otitis media should be treated with the suspension. Clinical studies of otitis media were conducted with the suspension, and the suspension results in higher peak blood levels than the tablet when administered at the same dose. Therefore, the tablet should not be substituted for the suspension in the treatment of otitis media.
In the treatment of infections due to S.pyogenes a therapeutic dosage of cefixime should be administered for at least 10 days.
Dosage for Impaired Renal Function:
Patients whose clearance is between 21 and 60ml/min or patients who are on renal hemodialysis may be given 75% of the standard dosage at the standard dosing interval (i.e., 300 mg daily). Patients whose clearance is <20 ml/min, or patients who are on continuous ambulatory peritoneal dialysis may be given half the standard dosage at the standard dosing interval (i.e., 200 mg daily).
After reconstitution the suspension may be kept for 14 days either at room temperature, or under refrigeration, without significant loss of potency. Keep tightly closed. Shake well before using.
Discard unused portion after 14 days.
*The information provided above is general in nature and for informational purposes only. It is NOT a substitute for the advice of your doctor. You must always consult your healthcare professional before starting any medication/supplementation program.