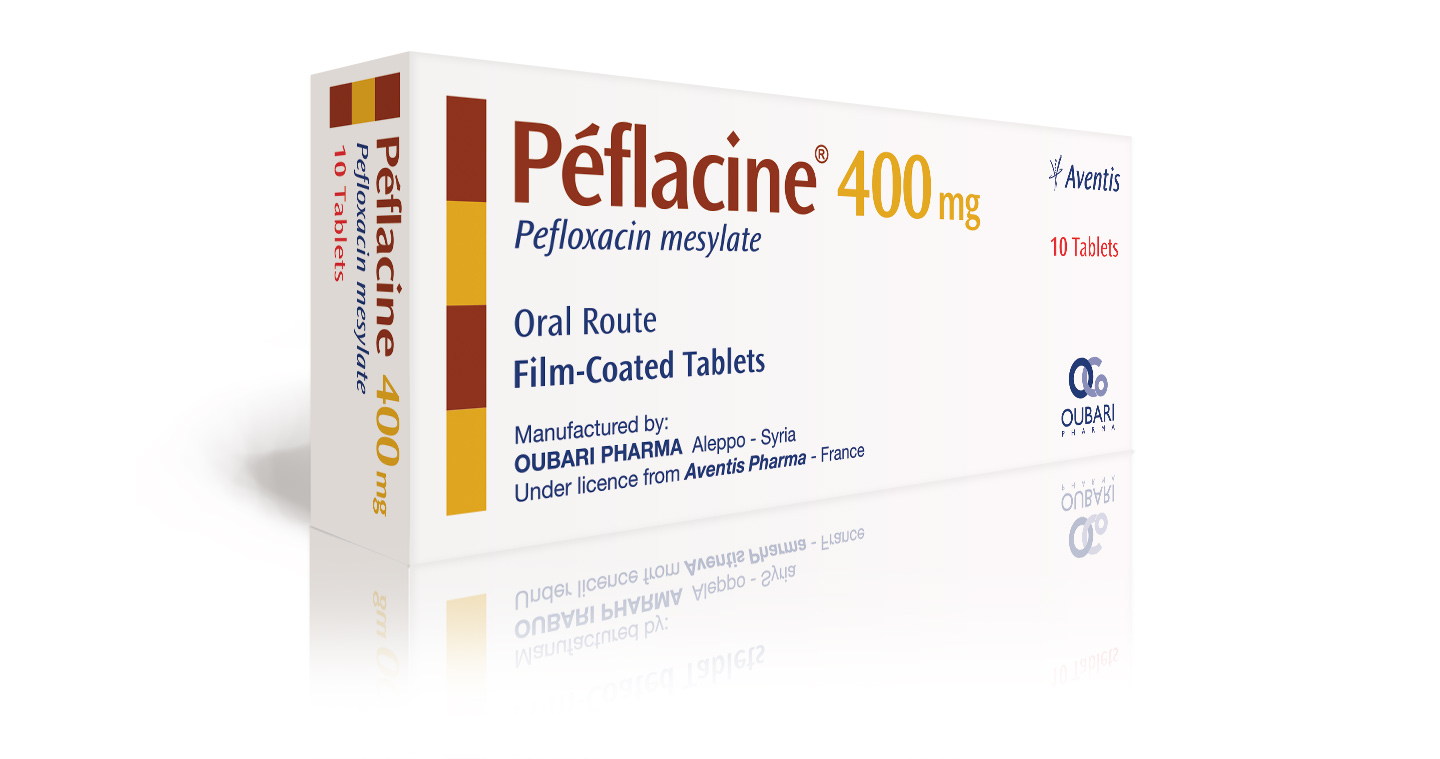 Generic Name: Pefloxacin
Dosage Form: Film-Coated Tablets
License: Sanofi
Category: Anti-Infective
Packaging: 10 Tablets
More Info
*Packaging design and product name may be different in your country.
Peflacine 400 mg – Film Coated Tablets
Composition
Each film-coated tablet of Peflacine 400 mg contains :
Pefloxacin: 400 mg.
Excipients: S.Q. for one film-coated tablet.
Indications
Therapeutic Indications:
Indications for pefloxacin are based on its antibacterial activity, the pharmacokinetic properties and the results obtained from controlled clinical trials.
They are limited in adults to the treatment of serious infections caused by Gram negative and Staphylococci susceptible strains, particularly in the following locations:
Septicaemia
Endocarditis
Meningitis
Lower respiratory tract
ENT
Urinary and renal
Gynecologic
Abdominal
Osteoarticular
Cutaneous
Hepato-Biliary
Streptococci and Pneumococci are inconstantly susceptible to pefloxacin, this product should not be used as first line therapy when such a strain is suspected.
The combination of another antibiotic may be justified when the emergence of resistant Pseudomonas aeruginosa and Staphyloccocus aureus is observed. Microbiological monitoring of such resistance should be considered especially when treatment failure is suspected.
Dosage
In subjects with normal hepatic functions:
800 mg/day (either 2 tablets or 2 ampoules containing 400 mg of pefloxacin)
In order to reach effective blood concentration more rapidly, an initial loading dose of 800mg may be given.
In subjects with hepatic insufficiency:
Patients with severe hepatic insufficiency or reduced hepatic blood flow, the daily dosage must be adjusted by increasing the intervals between the doses.
For the injectable forms, injections should be given by intravenous infusion at the rate of 8 mg/kg in one hour:
Twice daily in patients who are not ascitic or jaundiced,
Once daily in patients with jaundice,
Every 36 hours in patients with ascitis,
Every two days in patients with ascitis and jaundice.
In subjects with renal insufficiency (see "Pharmacokinetic properties" section).
In elderly patients aged over 70:
Oral route: 400 mg daily as two intakes of 200 mg each (1/2 tablet two times daily separated by an interval of 12 hours).
I.V. route: 400 mg per day as two infusions separated by an interval of 12 hours.
Method of administration:
Oral route:
Peflacine tablets must be taken in the morning and in the evening with meals in order to minimize gastro-intestinal disorders.
IV route:  
Peflacine injections must be administered by slow intravenous infusion during one hour, after the dilution of the solution contained in the ampoule into 125 or 250 ml of 5% glucose solution. Two infusions of 400 mg/day, one in the morning one in the evening.
Saline solution or other solution containing chloride ions must be avoided because of the risk of precipitation.
*The information provided above is general in nature and for informational purposes only. It is NOT a substitute for the advice of your doctor. You must always consult your healthcare professional before starting any medication/supplementation program.