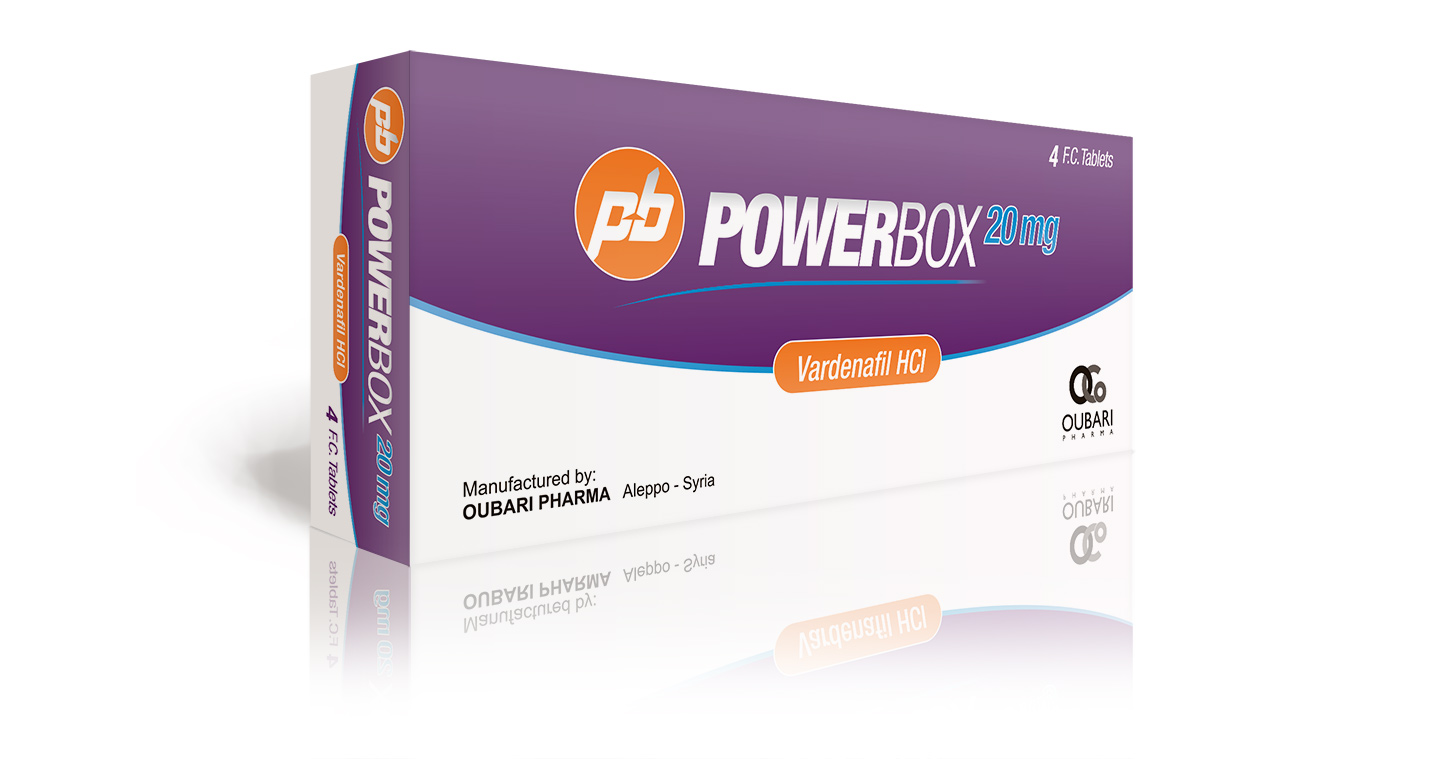 Generic Name: Vardenafil HCl
Dosage Form: Tablets
License: Generic
Category: Erectile Dysfunction
Packaging: 4 Tablets x 1 Blister
More Info
*Packaging design and product name may be different in your country.
Composition
Each film-coated tablet of PowerBox 20 mg contains:
Vardenafil HCl equivalent to 20 mg of vardenafil.
Excipient: S.Q. for one film-coated tablet.
Indications
PowerBox is indicated for the treatment of erectile dysfunction in men.
Dosage & Administration
For most patients:
The recommended starting dose of PowerBox is 10 mg taken orally approximately 60 minutes before sexual activity. The dose may be increased to a maximum recommended dose of 20 or decreased to 5 mg based on efficacy and side effects. The maximum recommended dosing frequency is one per day. PowerBox can be taken with or without food. Sexual stimulation is required for a response to treatment.
Geriatrics:
A starting dose of 5 mg should be considered in patients 65 years of age.
Hepatic impairment:
For patients with mild hepatic impairment (Child-Pugh A), no dose adjustment of PowerBox is required.
For patient with moderate hepatic impairment (Child-Pugh B), starting dose of 5 mg PowerBox is recommended, the maximum dose should not exceed 10 mg.
For patients with severe hepatic impairment (Child-Pugh C), vardenafil has not been evaluated; therefore PowerBox should not be taken.
Renal impairment:
For patients with mild (CLcr = 50 – 80 ml/min), moderate (CLcr= 30-50 ml/min), or severe (CLcr < 30 ml/min) renal impairment, no dose adjustment is required. Vardenafil has not been evaluated in patients on renal dialysis.
*The information provided above is general in nature and for informational purposes only. It is NOT a substitute for the advice of your doctor. You must always consult your healthcare professional before starting any medication/supplementation program.