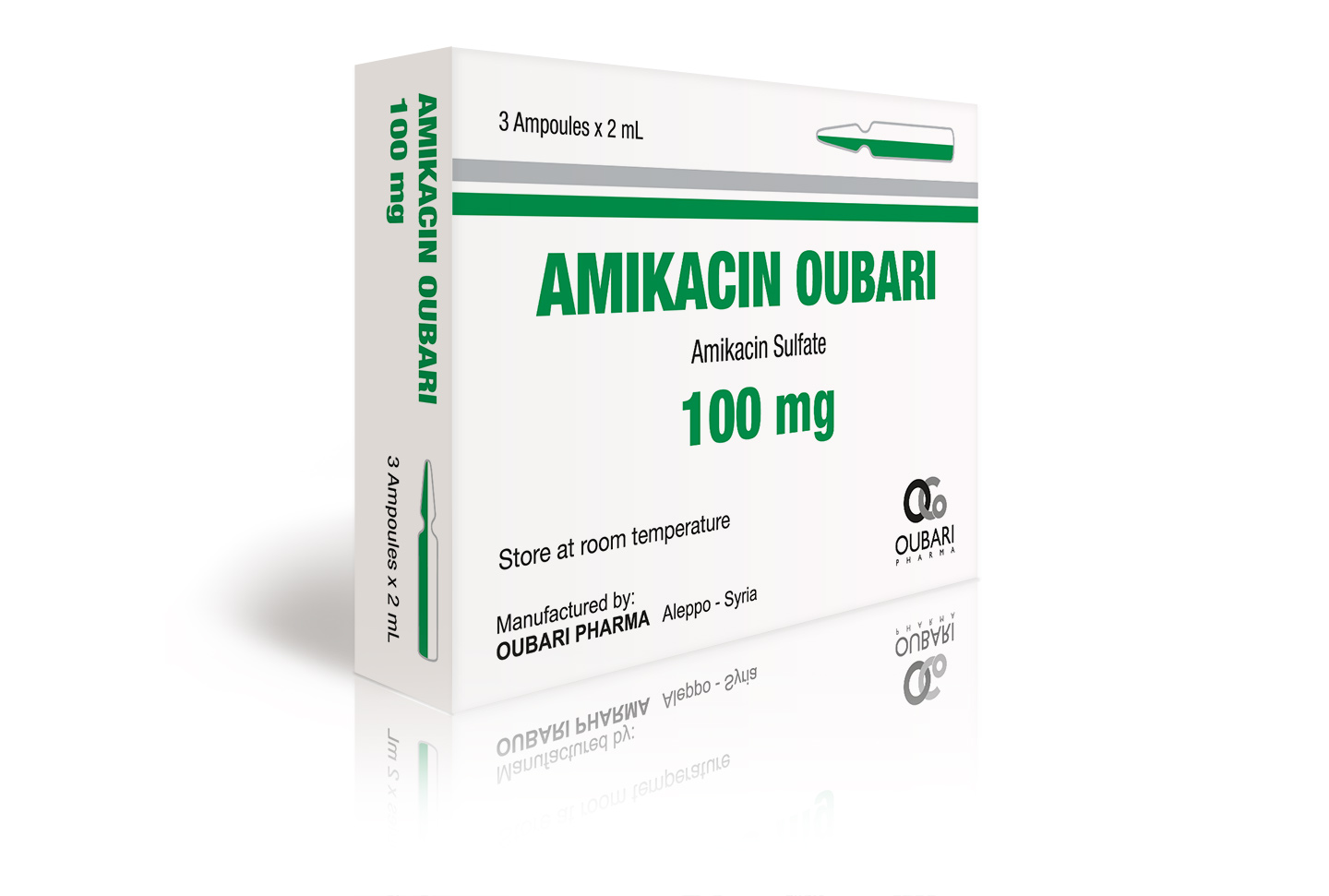 Generic Name: Amikacin Sulfate
Dosage Form: Ampoules
License: Generic
Category: Antibiotic
Packaging: 2 mL x 3 Ampoules
More Info
*Packaging design and product name may be different in your country.
Description
Amikacin Oubari (amikacin sulfate) is a semi-synthetic aminoglycoside antibiotic derived from kanamycin. It is available as ampoules for intramuscular and intravenous injection.
Composition
Each 2 mL Amikacin Oubari 100 mg ampoule contains:
Amikacin sulfate : 100 mg.
Excipient: S.Q. for ampoule of 2 mL.
Indications
Amikacin Oubari injection is indicated in the short-term treatment of serious infections due to susceptible strains of gram-negative bacteria, including Pseudomonas species, E.coli, species of indole-positive and indole-negative Proteus, Providencia species, Klebsiella-Entrobacter-Serratia species, and Acinetobacter species.
Amikacin Oubari is effective in bacterial septicemia (including neonatal sepsis); serious infections of the respiratory tract; bones and joints, central nervous system (including meningitis) and skin and soft tissue; intra-abdominal infections (including peritonitis); and in burns and post-operative infections (including post-vascular surgery), serious complicated and recurrent urinary tract infections due to these organisms.
Amikacin Oubari may be considered as initial therapy in suspected Gram-negative infections and therapy may be instituted before obtaining the results of susceptibility testing. Amikacin was demonstrated to be effective in infections caused by gentamicin and/or tobramycin-resistant strains of Gram-negative organisms, particularly Proteus rettgeri, Providencia stuartii, Serratia marcescens, and Pseudomonas aeruginosa.
Amikacin Oubari has also been shown to be effective in staphylococcal infections and may be considered as initial therapy under certain conditions in the treatment of known or suspected staphylococcal disease such as severe infections where the causative organism may be either a Gram-negative bacterium or a staphylococcus, infections due to susceptible strains of staphylococci in patients allergic to other antibiotics, and in mixed staphylococcal / Gram-negative infections.
In certain severe infections such as neonatal sepsis, concomitant therapy with a penicillin-type drug may be indicated because of the possibility of infections due to Gram-positive organisms such as streptococci or pneumococci.
Dosage & Administration
The patients pretreatment body weight should be obtained for calculation of correct dosage.
Amikacin Oubari injection may be given intramuscularly or intravenously. The status of renal function should be estimated by measurement of the serum creatinine concentration or calculation of the endogenous creatinine clearance rate. Reassessment of renal function should be made periodically during therapy.
Intramuscular Administration for Patients with Normal Renal Function
The recommend dosage for adults, children and older infants with normal renal function is 15 mg/kg/day divided into 2 or 3 equal doses administered at equally-divided intervals, (7.5 mg/kg q 12h or 5 mg/kg q 8h).
Treatment of patients in the heavier weight classes should not exceed 1.5 grams/day.
When Amikacin Oubari is indicated in newborns, it is recommended that a loading dose of 10 mg/kg be administered initially to be followed with 7.5 mg/kg every 12 hours. The usual duration of treatment is 7 to 10 days.
If definite clinical response does not occur within 3 to 5 days, therapy should be stopped and the antibiotic susceptibility pattern of the invading organism should be rechecked.
When Amikacin Oubari is indicated in uncomplicated urinary tract infections, a dose of 250mg twice daily may used.
Intramuscular Administration for Patients with Impaired Renal Function
Doses may be adjusted in patients with impaired renal function either by administering normal doses at prolonged intervals or by administering reduced doses at fixed interval. Both methods are based on patient's creatinine clearance or serum creatinine values, neither method should be used when dialysis is being performed.
Normal Dosage at Prolonged Intervals
if the creatinine  clearance rate is not available and the patient's condition is stable, a dosage interval in hours for the normal dose can be calculated by multiplying the patient's serum creatinine by ( 9 ); e.g., if the serum creatinine concentration is (2 mg/100 mL), the recommended single dose (7.5mg/kg) should be administered every 18 hours.
Reduced Dosage at Fixed Time Intervals
When renal function is impaired and it is desirable to administer Amikacin Oubari at a fixed time interval, dosage must be reduced, and serum creatinine and creatinine clearance values are the most readily available indicators of the degree of renal impairment to use as a guide for dosage.
First, initiate therapy by administering a normal dose (7.5mg/kg) as a loading dose, this loading dose is the same as the normally recommended dose which would be calculated for a patient with normal renal function as described above. To determine the size of maintenance doses administered every 12 hours, use the following equation:
Maintenance Dose Every 12 hrs = (Observed Patient's Creatinine Clearance in mL/min / Normal Creatinine Clearance in mL/min) x Calculated Loading Dose in mg
An alternate guide for determining reduced dosage at 12 hour intervals (for patients whose steady state serum creatinine values are known) is to divide the normally recommended dose by the patients serum creatinine.
*The information provided above is general in nature and for informational purposes only. It is NOT a substitute for the advice of your doctor. You must always consult your healthcare professional before starting any medication/supplementation program.