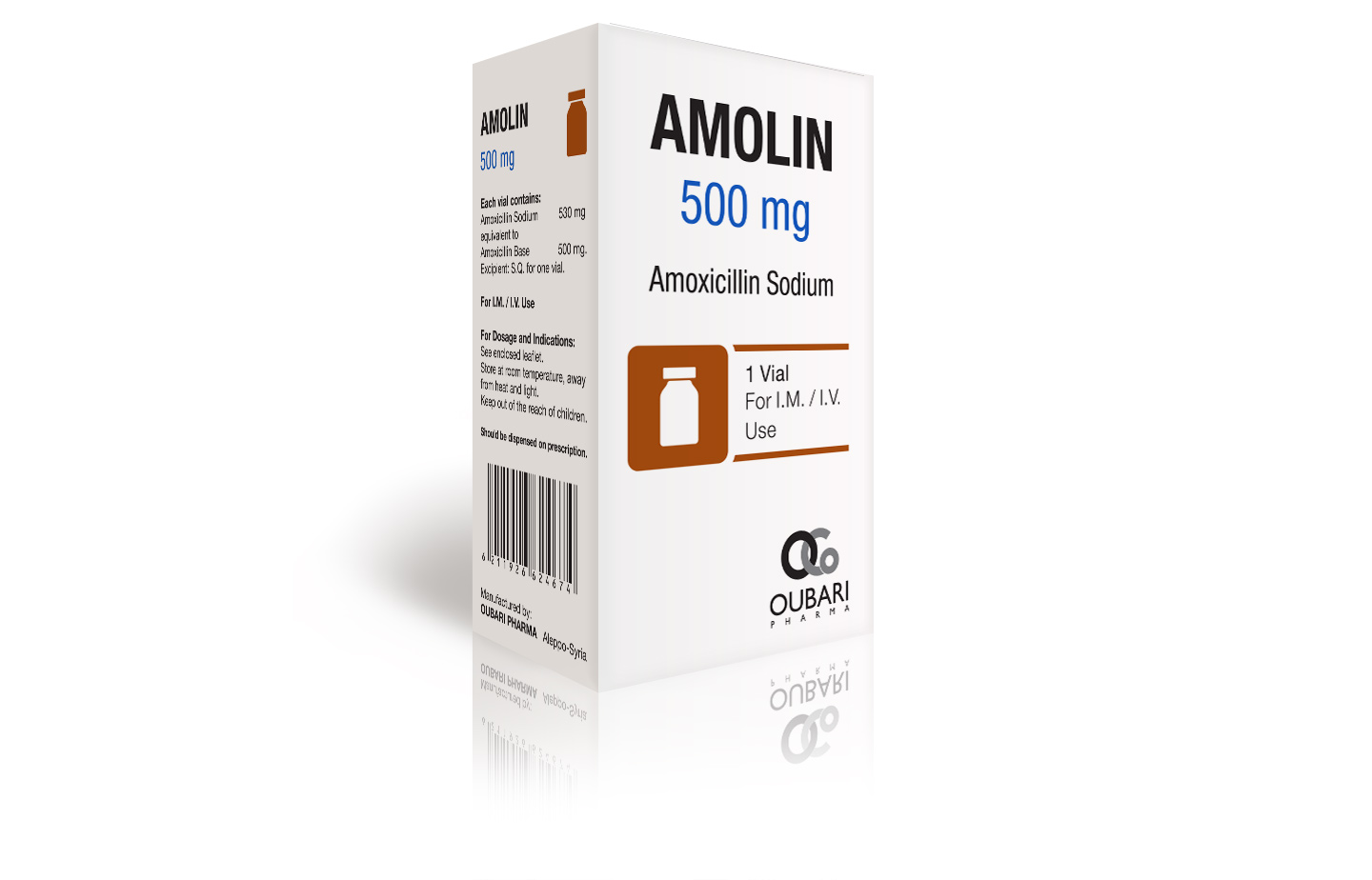 Generic Name: Amoxicillin Sodium
Dosage Form: Vial
License: Generic
Category: Antibiotic
Packaging: 1 vial with 1 WFI ampoule
More Info
*Packaging design and product name may be different in your country.
Description
Amolin exerts a broad spectrum bactericidal activity against  several G (+ ve) (bacillus anthracis – clostridium species – corynebacterium species – diplococcus pneumonia – staphylococcus aureus – streptococcus faecalis – streptococcus pyogenes – streptococcus viridans – listeria monocytogenes).
G (– ve) (bordetella pertussis – brucella species – Escherichia coli – haemophilus influenzae – neisseria meningitides – proteus mirabilis – salmonella species – shigella species – neisseria gonorrhoeae – vibrio cholera).
Composition
Each vial contains :
Amoxicillin Na: 530 mg (equiv. to amoxicillin base 500 mg).
Excipients: S.Q. for one vial.
Indications
Amolin (Amoxicillin) is indicated in the treatment of the following infections:
Infections of the ( ear – nose – throat ).
Infections of the urogenital tract.
Infections of the skin and soft tissues.
Infections of the lower respiratory tract.
Sever infections ( septicemia – peritonitis – endocarditis – osteomyelitis ).
Infections of the gastro-intestinal tract.
Typhoid or paratyphoid fever
Gonorrhoeae.
Amolin has been used as an alternative to chloramphenicol in the treatment of infections caused by salmonella typhi.
Amolin is used in infections of the biliary-tract, to achieve high concentrations in the bile.
Dosage & Administration
Method of Administration
Moderate infections:  500mg/ 8 Hr. I.M.
Severe infections:

1 g/ 6 Hr. I.V ( 3 – 4 ) minutes.
1 g/ 6 Hr. infusion (30- 60) minutes.

Children up to 10 years of age: 50 – 100 mg/kg I.M daily by injections in divided doses.
Method of Vial Dissolving
Dissolve 250 mg , 500 mg vials in 2 ml water for injection.
Dissolve 1000 mg vial in 4 ml water for injection.
*The information provided above is general in nature and for informational purposes only. It is NOT a substitute for the advice of your doctor. You must always consult your healthcare professional before starting any medication/supplementation program.