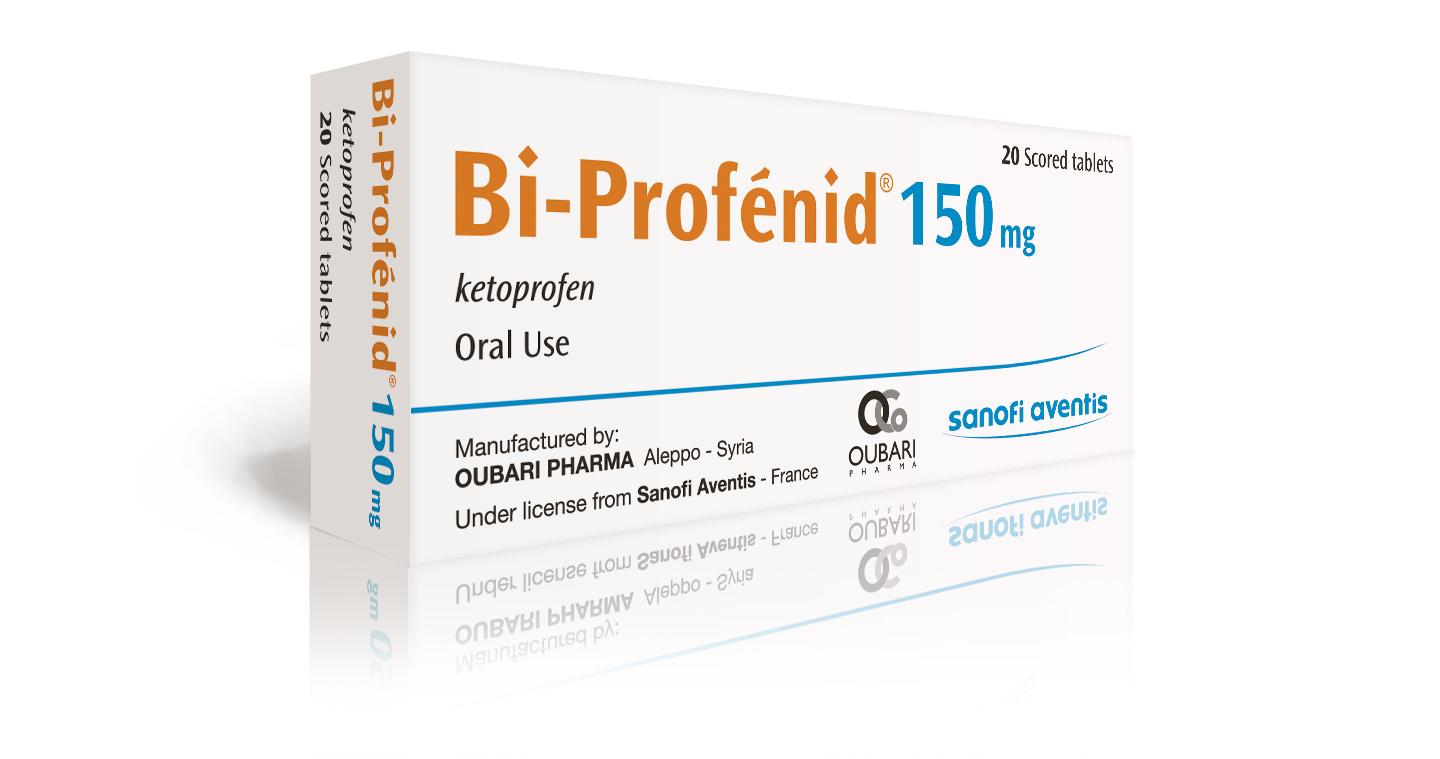 Dosage Form: Scored Tablets
License: Sanofi
Category: NSAID
Packaging: 10 Tablets x 2 Blisters
More Info
*Packaging design and product name may be different in your country.
Composition
Each one scored tablet contains:
Ketoprofen: 150 mg.
Excipients: S.Q. for one scored tablet.
Indications
This medicinal product is indicated in adults and children aged more than 15 years:
in long-term treatment of certain chronic inflammatory rheumatisms and of some severe forms of osteoarthritis.
in short-term treatment of certain types of inflammation around the joints (tendonitis, bursitis, acute painful shoulder), of certain types of joint inflammation due to crystalline deposits such as gout, of acute pain in osteoarthritis, of acute lower back pain, of acute pain due to irritation of a nerve such as sciatica, of pain and of oedema due to trauma.
treatment of migraine attacks with or without aura (Aura: a transient, subjective sensation that occurs before migraine attacks, which varies considerably from patient to patients and affects hearing, vision ….).
Dosage & Administration
In all cases, strictly follow the physician's prescription.
Adults
Must only be used for over 15 years old.
In all cases, never exceed  the maximum dose of 2 tablets per 24 hours.
The dosage depends on the indication.
Rheumatology
One or two 150 mg tablets, i.e. 150 to 300 mg per day.
Treatment of migraine attacks:
Start the treatment as soon as possible after the onset of the attack by using 1/2 tablet (75 mg). The treatment is generally found to be efficient in the two hours following the intake. If you are not relieved after the first dose, do not take a second dose during the same attack. You may take another type of treatment as long as it is not an NSAID or aspirin.
*The information provided above is general in nature and for informational purposes only. It is NOT a substitute for the advice of your doctor. You must always consult your healthcare professional before starting any medication/supplementation program.