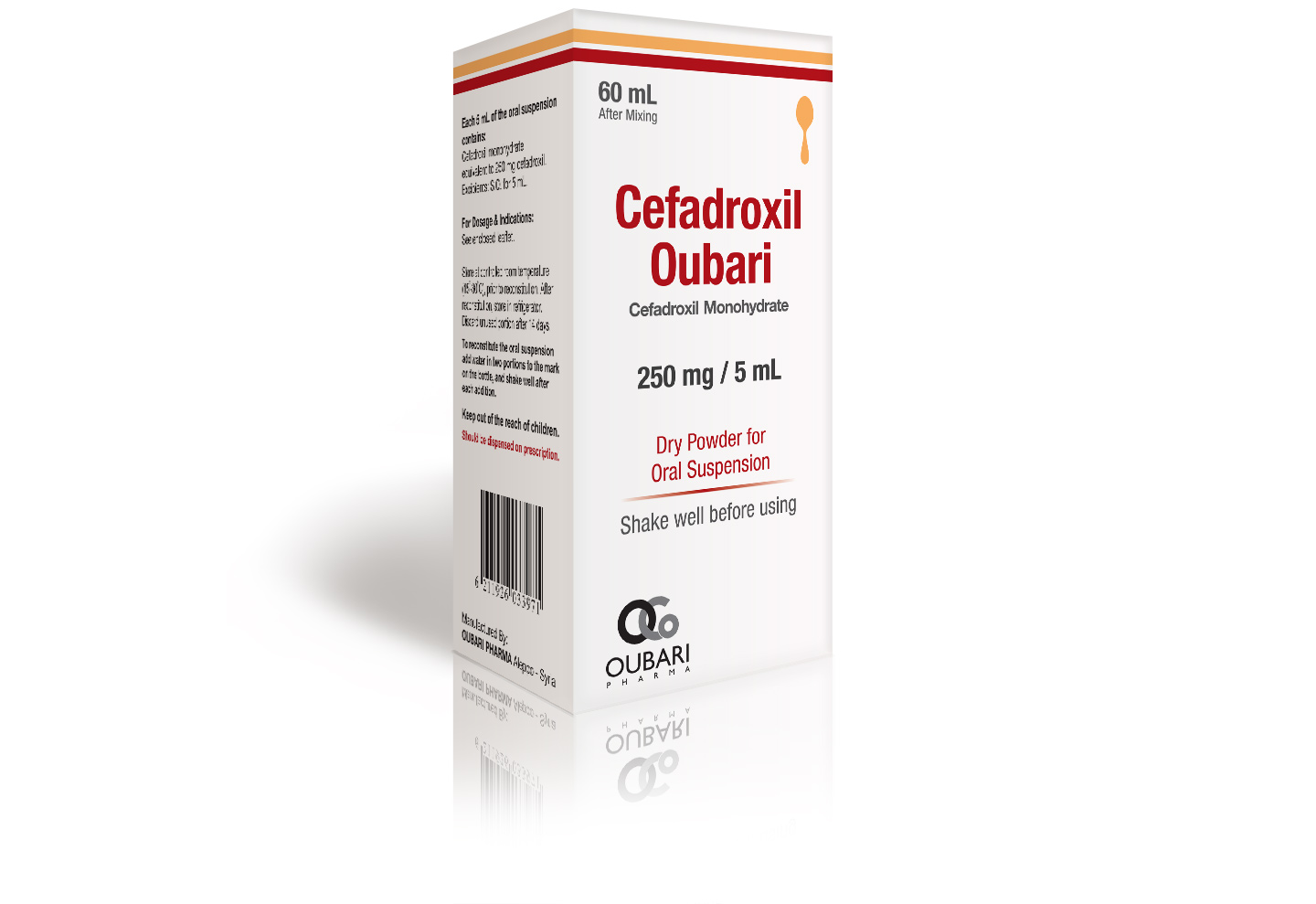 Generic Name: Cefadroxil
Dosage Form: Dry Powder for Oral Suspension
License: Generic
Category: Antibiotic
Packaging: 60 mL Oral Suspension Bottle
More Info
*Packaging design and product name may be different in your country.
Description
Cefadroxil Oubari (cefadroxil monohydrate) is a semisynthetic cephalosporin antibiotic intended for oral administration.
Composition
Each 5 mL of Cefadroxil Oubari Oral Suspension contains:
Cefadroxil monohydrate equivalent to cefadroxil: 250 mg.
Excipient: S.Q. for 5 mL.
Indications
Cefadroxil Oubari is indicated for the treatment of patients with infection caused by susceptible strains of the designated organisms in the following diseases:
Urinary tract infections caused by: E. coli, P. mirabilis, and Klebsiella species.
Skin and skin structure infections caused by staphylococci and/or streptococci.
Pharyngitis and/or tonsillitis caused by Streptococcus pyogenes (Group A beta-hemolytic streptococci).
Cefadroxil is generally effective in the eradication of streptococci from the oropharynx.
Dosage & Administration
CEFADROXIL OUBARI (cefadroxil monohydrate) is acid-stable and may be administered orally without regard to meals, administration with food may be helpful in diminishing potential gastrointestinal complaints occasionally associated with oral cephalosporin therapy.
Children
The daily dosage of Cefadroxil Oubari Oral Suspension according to the child's weight:
4.5 Kg: –
9.1 Kg: 1 tsp
13.6 Kg: 1 1⁄2 tsp
18.2 Kg: 2 tsp
22.7: 2 1⁄2 tsp
27.3: 3 tsp
31.8 & above: –
tsp = teaspoon.
*The information provided above is general in nature and for informational purposes only. It is NOT a substitute for the advice of your doctor. You must always consult your healthcare professional before starting any medication/supplementation program.