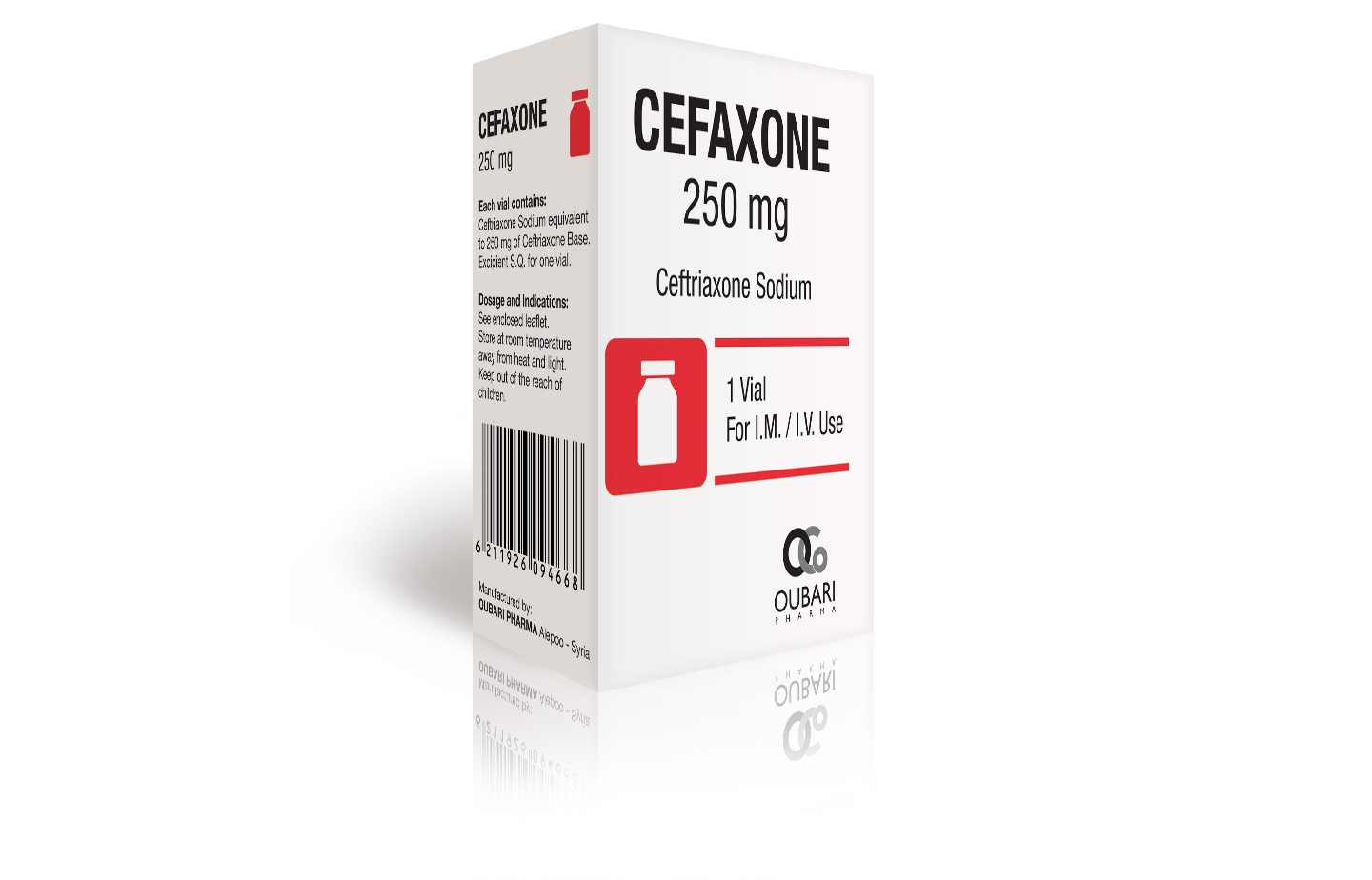 Generic Name: Ceftriaxone Sodium
Dosage Form: Vial
License: Generic
Category: Antibiotic
Packaging: 1 vial with 1 WFI ampoule
More Info
*Packaging design and product name may be different in your country.
Composition
Each Cefaxone 250 mg vial contains:
Ceftriaxone sodium: 250 mg.
Excipients: S.Q. for one vial.
Indications
Cefaxone is indicated for the treatment of infections caused by Pathogens sensitive to Ceftriaxone. Such infections include sepsis,meningitis in neonates and infants, abdominal infections (peritonitis, infections of the biliary tract), infections of the bones and joints, infections of soft tissues and skin, renal and urinary tract infections, respiratory tract infections particularly pneumonia, and uncomplicated gonorrhoea. It is also used for the treatment of ear, nose and throat infections. Cefaxone is also indicated as a perioperative prophylaxis of infections.
Dosage
Adults and children Over 12
1-2 vials of Cefaxone 1000 mg once daily. In severe infections and cases in which the pathogens are only moderately sensitive to Cefaxone, the daily dosage may be increased to 4 grams administered daily.
Infants and young children
May receive from 20-80 mg per kg body-mass/per day depending on the severity of the infection, usually every 12-24 hours. In cases of premature babies, the daily dosage should not exceed 50mg/kg body-mass on account of the immaturity of the infant's enzyme systems.
Duration of therapy
The duration of therapy varies according to the disease. Administration of Cefaxone should be continued for a evidence of bacterial eradication has been obtained.
Special Dosage Instructions
Meningitis: In bacterial meningitis in neonates and children, treatment begins with doses of 100 mg per kg (not to exceed 4g) once daily. As soon as the causative organism has been identified and its sensitivity determined, the dosage can be reduced accordingly.
Gonorrhoea: For the treatment of gonorrhoea (penicillinase-producing and non-penicillinase-producing strains), a single IM dose of Cefaxone 250 mg is recommended.
Perioperative prophylaxis:
A single dose of 1 to 2 g Cefaxone administered 30-90 minutes prior to surgery.
Impaired renal and hepatic function:
In cases of concomitant severe renal and hepatic dysfunction, serum concentration should be monitored, however, to determine whether dosage adjustments are necessary, since the elimination rate in these patients may be reduced.
Method of Administration
Cefaxone vials must be reconstituted prior to use, the reconstituted solutions retain their physical and chemical stability for 6 hours at room temperature (or 24 hours at +5°C). As a general rule, however, the solutions should be used immediately after preparation. They range in colour from pale-yellow to amber, depending on the concentration and and length of storage. This characteristic of the active ingredient is of no significance for the efficacy or tolerance  of the drug.
Intramuscular
For IM injection, Cefaxone 250 mg & Cefaxone 500 mg should be dissolved in 2 ml, and Cefaxone 1000 mg. in 3.5ml of sterile Lidocaine Hydrochloride solution 1%. Cefaxone must be injected well within the body of a relatively large muscle. It is recommended that not more than 1g. be injected on either side. The Lidocaine solution must never be administered intravenously.
Intravenous injection
For IV injection Cefaxone 250 mg and Cefaxone 500 mg are dissolved in 5 ml and Cefaxone 1000 mg. is dissolved in 10 ml of water for injection. The intravenous administration should be given over 2-4 minutes.
Incompatibilities:
Cefaxone should not be added to solutions containing is incompatible with amsacrine, vancomycin and fluconazole and aminoglycosides.
*The information provided above is general in nature and for informational purposes only. It is NOT a substitute for the advice of your doctor. You must always consult your healthcare professional before starting any medication/supplementation program.