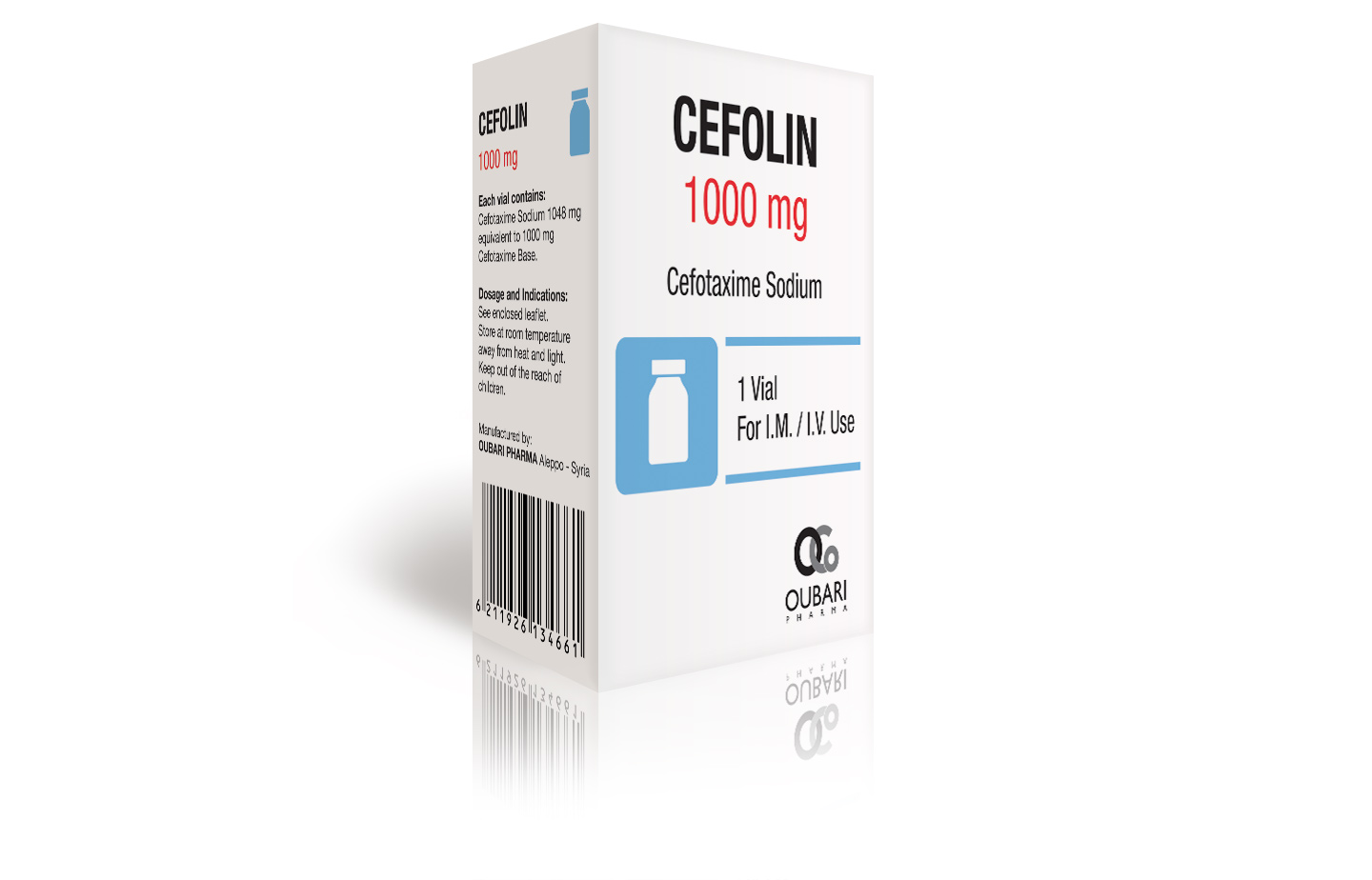 Generic Name: Cefotaxime sodium
Dosage Form: Vial
License: Generic
Category: Antibiotic
Packaging: 1 vial with 1 WFI ampoule
More Info
*Packaging design and product name may be different in your country.
Description
Cefolin (Cefotaxime sodium) is a semisynthetic broad spectrum 3rd generation cephalosporin antibiotic for parenteral administration.
Composition
Each vial contains:
Cefotaxime sodium: 500 mg.
Excipients: S.Q. for one vial.
Indications
Cefolin is indicated for the treatment of the following infections due to susceptible microorganisims: lower respiratory tract infections including pneumonia, genitourinary infections including uncomplicated gonorrhea (cervical , urethral and rectal), gynecologic infections including pelvic inflammatory disease , endometritis and pelvic cellulitis , but cefotaxime has no activity against chlamydia trachomatis, therefore if C. trachomatis is one of the suspected pathogens, appropriate antichlamydial coverage should be added.ِِِِAlso cefolin is indicated for the treatment of bacteremia and septicemia, skin and skin structure infections, intra – abdominal infections including peritonitis , bone and joint infections , central nervous system infections e.g., meningitis and ventriculitis .
Note cefotaxime sodium and aminoglycosides have been shown to be synergistic against some strains of pseudomonas aeruginosa.
Dosage & Administration
Adults
Cefolin is administered by intramuscular or intravenous injection and the following table shows the guidelines for the recommended dosage of Cefolin:
Gonococcal urethritis / cervicitis in males and females: a single daily dose of 0.5 grams by IM.
Rectal gonorrhea in females: a single daily dose of 0.5 grams by IM.
Rectal gonorrhea in males: a single daily dose of 1 gram by IM.
Uncomplicated Infections: 1 gram every 12 hours IM or IV (A daily dose of 2 grams).
Moderate to severe infections: 1-2 grams every 8 house via IM or IV (Daily dose of 3-6 grams).
Infections commonly needing antibiotics in higher dosage (e.g. septicemia): 2 grams every 6-8 hours via IV (Daily dose of 6-8 grams).
Life-threatening infections: 2 grams every 4 hours via IV (Daily dose of 12 grams).
For Cesarean Section
Give the first dose of 1 gram IV as soon as the umbilical cord is clamped , the second and third doses should be given as 1 gr. IV or IM at 6 and 12 hours after the first dose.
For Neonates, Infants and Children
0-1 week of age, 50 mg / kg per dose every 12 hours IV.
1-4 weeks of age 50 mg / kg per dose every 8 hours IV.
From 1 Month to 12 Years
If weights less than 50 kg of body weight the daily dose is 50 mg to 180 mg/ kg body weight divided into 4-6 equal doses IM or IV.
If weights 50 kg or more, give the usual adults dosage.
The maximum daily dosage should not exceed 12 grams.
Impaired Renal Function
If creatinine clearance is less than 20 ml / min / 1.73 m², the dose of cefolin should be halved. Cefolin is reconstituted as follows:
Route  Of  Administration
Strength of Cefolin vial
I.M route Lidocaine 1 % Solution (ml)
I.V route sterile water for injection ( ml )
500 mg
4 ml
2 ml
1 gram
4 ml
4 ml
2 grams
——–
10 ml
The color of the solution range from pale yellow to light amber , for I.V use the vials should be reconstitute with sterile water for injection , and a solution containing 1 or 2 gr. in 10 ml of sterile water for injection should be injected over a period of 3-5 min.
For I.M. use the vials should be reconstitute with sterile water for injection , the 500 mg or 1 g for I.M. only could be reconstitute with 4 ml of Lidocaine 1 % solution .
*The information provided above is general in nature and for informational purposes only. It is NOT a substitute for the advice of your doctor. You must always consult your healthcare professional before starting any medication/supplementation program.