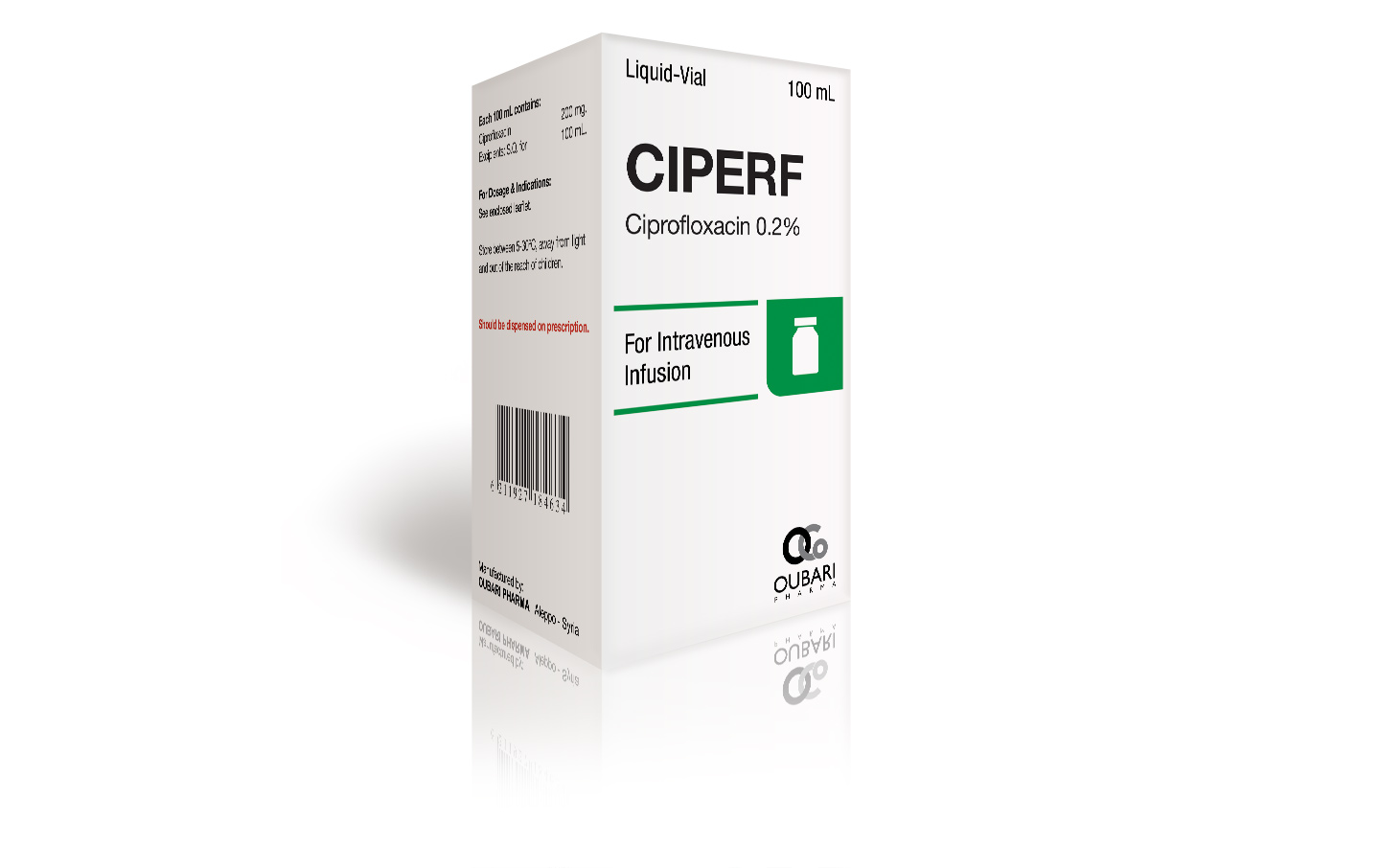 Generic Name: Ciprofloxacin
Dosage Form: Vial
License: Generic
Category: Antibiotic
Packaging: 100 mL Vial
More Info
*Packaging design and product name may be different in your country.
Composition
Each 100 mL vial contains:
Ciprofloxacin: 200 mg.

Excipients: S.Q. for one vial.
Indications
Ciperf I.V. solution is indicated for the treatment of infections in adults only in the following conditions:
Urinary tract infections, lower respiratory infections, nosocomial pneumonia, skin and skin structure infections, bone and joint infections, complicated intra-abdominal infections (used in conjunction with metronidazole).
Empirical therapy for febrile neutropenic patients in combination with piperacillin sodium.
Dosage and Administration
Ciprofloxacin I.V. is recommended for adults only.
For urinary tract infections: according to severity of the infection the recommended dosage is 200-400 mg every 12 hours.

For lower respiratory tract infections, skin and skin structure infections, and bone and joint infections of mild to moderate severity is 400mg I.V. every 12 hours, and for severe/complicated infections, the recommended dosage is 400mg every 8 hours.

The recommended dosage for mild, moderate, and severe nosocomial pneumonia is 400 mg I.V. every 8 hours.

Complicated intra-abdominal infections: 400mg I.V. every 12 hours, plus I.V. metronidazole to provide appropriate anaerobic coverage.
Ciprofloxacin I.V. should be administered by intravenous infusion over a period of 60 minutes, into a large vein.
Recommended dose for patients with impaired renal functions:
| | |
| --- | --- |
| Creatinine Clearance (ml/min) | Dosage |
| < 30 | See usual dosage |
| 5 – 29 | 200-400mg / 18-24 hr |
*The information provided above is general in nature and for informational purposes only. It is NOT a substitute for the advice of your doctor. You must always consult your healthcare professional before starting any medication/supplementation program.