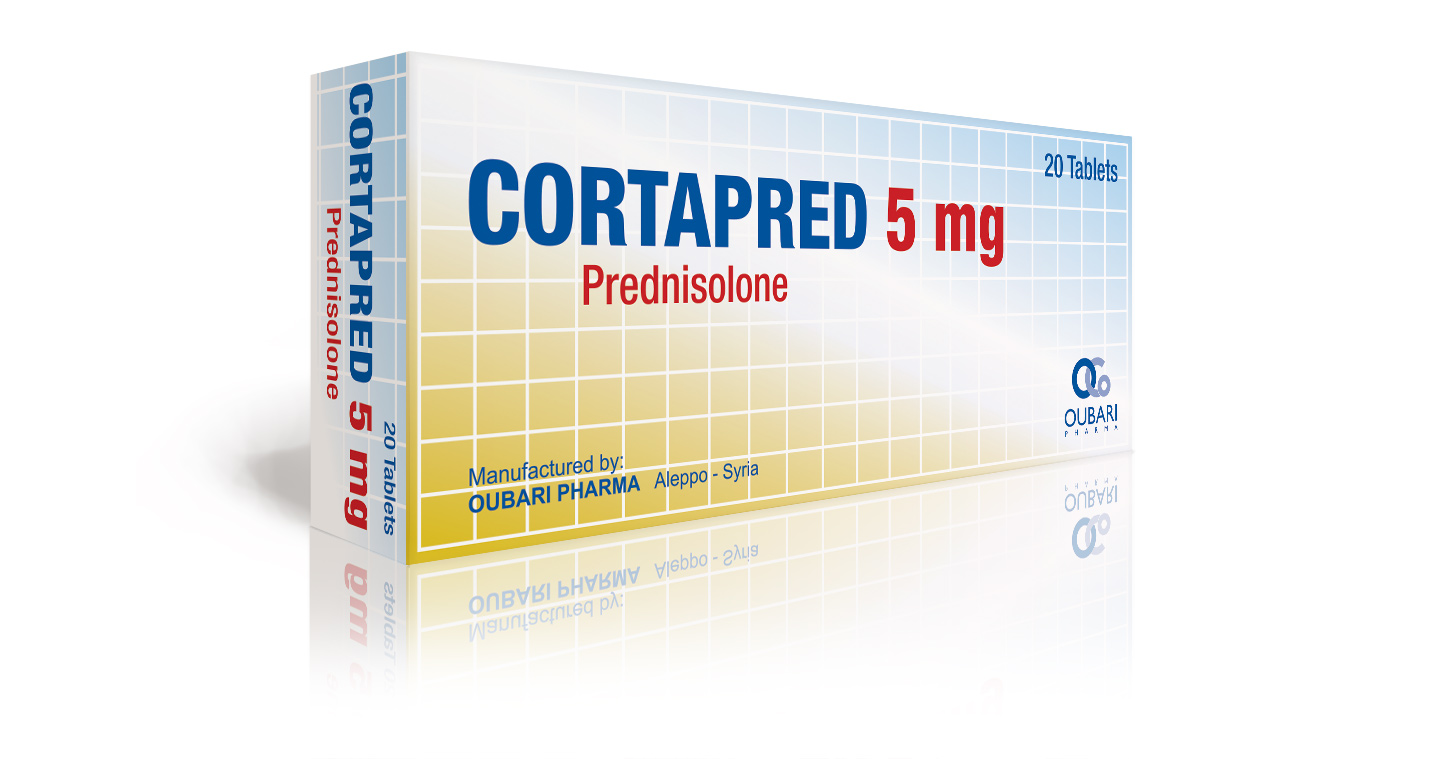 Generic Name: Prednisolone
Dosage Form: Tablets
License: Generic
Category: Corticosteroid
Packaging: 20 Tablets x 1 Blister
More Info
*Packaging design and product name may be different in your country.
Description
Prednisolone is a synthetic glucocorticoid which is easily absorbed from the gastro-intestinal tract. It has 4 times the anti-inflammatory potency and 0.8 times the salt retaining potency of the natural adrenocortical hormone, hydrocortisone.
Prednisolone also has anti-allergic, anti-toxic, and immunosuppressive properties.
Composition
Each scored tablet contains :
Prednisolone: 5 mg.

Excipients: S.Q. for one scored tablet.
Indications
Immuno-allergology: systemic lupus erythematosus, nephrotic syndrome, periarteritis nodosa, hypersensitivity reactions to drugs, serum sickness, Stevens-Johnson syndrome, and for chronic immunosuppression in transplantation patients.

Rheumatology: as adjunctive therapy for short-term administration in serious cases of rheumatoid arthritis and rheumatic osteoarthritis, acute rheumatic carditis.

Endocrinology: primary or secondary adrenocortical insufficiency and adrenogenital syndromes, polycystic ovary syndrome.

Ophthalmology: severe acute or chronic allergic inflammatory processes of the eye and its adnexa, such as allergic conjunctivitis, iritis, optic neuritis.

Dermatology: pemphigoid , exfoliative dermatitis , erythema multiforme, severe psoriasis.

Gastero-enterology: to induce remission of ulcerative colitis, some cases of chronic hepatitis.

Cardiology: some cases of pericarditis.

Pulmonology: asthmatic pulmonary and allergic alveolitis , severe bronchial asthma , non-specific obstructive lung diseases.

Haematology and oncology: idiopathic and secondary thrombocytopenic purpura, auto-immune heamolytic anaemia, acute and chronic lymphocytic leukaemia, acute myelocytic leukaemia.

Neurology: cerebral oedema, in some cases of acute multiple sclerosis and peripheral neuritis.
Dosage & Administration
Cortapred tablets should be taken orally, with some fluid.
The dosage in general depends on severity of the condition and the response of the patient.

For primary and secondary adrenocortical insufficiency: 5-25 mg daily in divided doses, in adrenogenital syndromes: 10-20 mg /m

2

 of body surface daily in divided doses.

For other therapy daily oral dosages of 5-30 mg are usually sufficient but in some patients higher dosage may be temporarily required , to control the disease. For tapering-off usage this should be done by giving one daily dose in early morning, preferably every other day.
*The information provided above is general in nature and for informational purposes only. It is NOT a substitute for the advice of your doctor. You must always consult your healthcare professional before starting any medication/supplementation program.