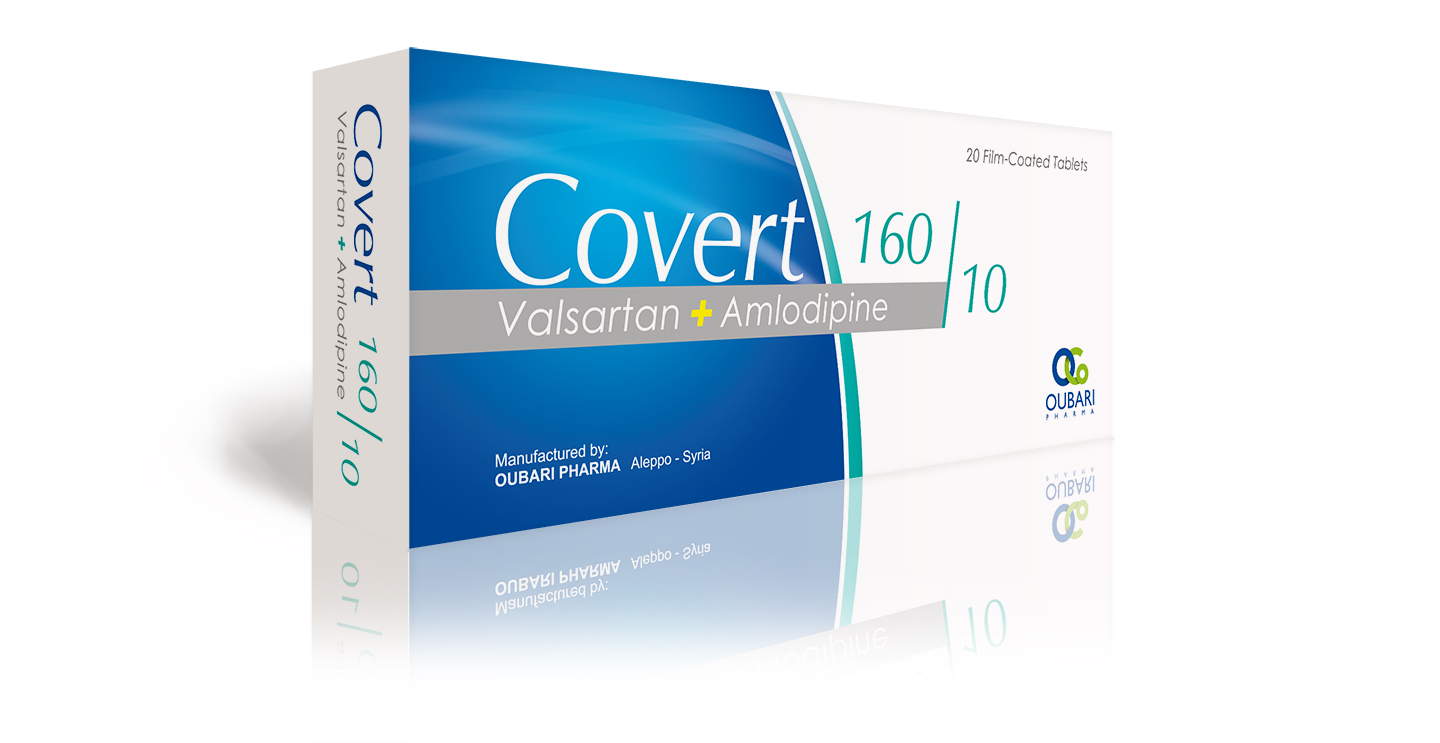 Generic Name: Amlodipine & Valsartan
Dosage Form: Tablets
License: Generic
Category: Antihypertensive
Packaging: 10 Tablets x 2 Blisters
More Info
*Packaging design and product name may be different in your country.
Description
COVERT is an antihypertensive drug which is a fixed combination of amlodipine (as the besylate salt) and valsartan.
Amlodipine is a dihydropyridine calcium channel blocker, valsartan is a nonpeptide, orally active, and specific angiotensin II antagonist acting on the AT1 receptor subtype.
Composition
Each film coated tablet contains:
Valsartan: 160 mg
Amlodipine Besylate: 10 mg
Excipients: S.Q for one film-coated tablet.
Indications
COVERT is indicated for the treatment of hypertension:
In patients not adequately controlled on monotherapy.
As initial therapy in patients likely to need multiple drugs to achieve their blood pressure goals.
The choice of COVERT as initial therapy for hypertension should be based on an assessment of potential benefits and risks including whether the patient is likely to tolerate the lowest dose of COVERT.
Patients with stage (2) hypertension (moderate to severe) are at a relatively higher risk for cardiovascular events, kidney failure and vision problems, so prompt treatment is clinically relevant.
Dosage & Administration
General considerations
The majority of the antihypertensive effect is attained within 2 weeks after initiation of therapy or a change in dose. The dosage can be increased after 1 to 2 weeks of therapy to a maximum of one 320/10 mg tablet once daily as needed to control blood pressure.
COVERT may be administered with or without food.
COVERT may be administered with other antihypertensive agents.
Elderly Patients: Because of decreased clearance of amlodipine, therapy should be initiated at 2.5 mg.
Renal Impairment: No initial dosage adjustment is required for patients with mild or moderate renal impairment. Titrate slowly in patients with severe renal impairment.

Hepatic Impairment: No initial dosage adjustment is required for patients with mild or moderate liver insufficiency. Titrate slowly in patients with hepatic impairment.
Add-on Therapy
May be used as add-on therapy for patients not controlled on monotherapy.
A patient whose blood pressure is not adequately controlled with amlodipine (or another dihydropyridine calcium-channel blocker) alone or with valsartan (or another angiotensin II receptor blocker) alone may be switched to combination therapy with COVERT.
A patient who experiences dose-limiting adverse reactions on either component alone may be switched to COVERT containing a lower dose of that component in combination with the other to achieve similar blood pressure reductions.
The clinical response to COVERT should be subsequently evaluated and if blood pressure remains uncontrolled after 3 to 4 weeks of therapy, the dose may be titrated up to a maximum of 320 /10 mg.
Replacement Therapy
For convenience, patients receiving amlodipine and valsartan from separate tablets may instead wish to receive tablets of COVERT containing the same component doses.
Initial Therapy
A patient may be initiated on COVERT if it is unlikely that control of blood pressure would be achieved with a single agent.
The usual starting dose is COVERT 160 / 5 mg once daily in patients who are not volume-depleted.
*The information provided above is general in nature and for informational purposes only. It is NOT a substitute for the advice of your doctor. You must always consult your healthcare professional before starting any medication/supplementation program.