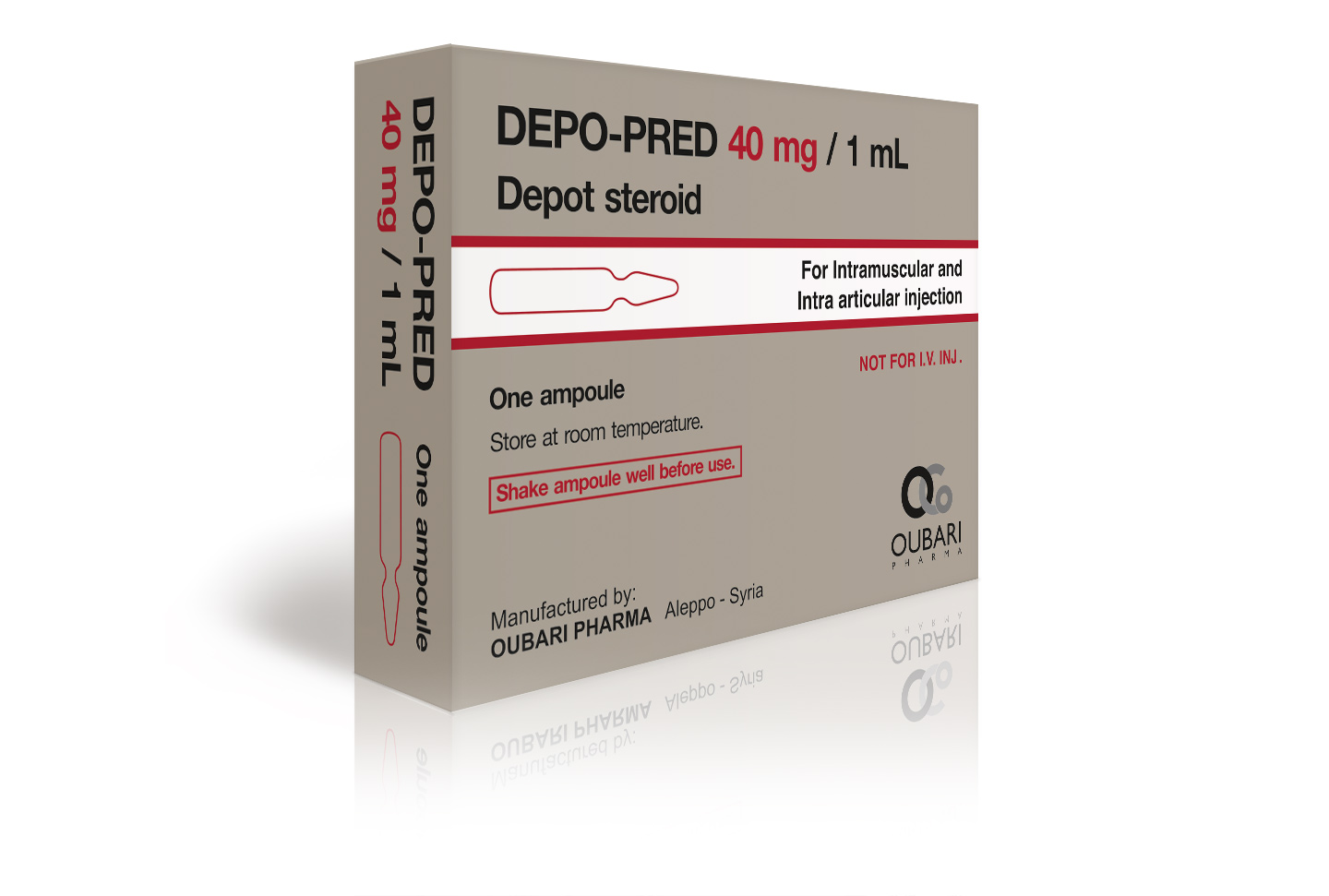 Generic Name: Methylprednisolone acetate
Dosage Form: Ampoules
License: Generic
Category: Corticosteroid
Packaging: 1 mL x 1 Ampoule
More Info
*Packaging design and product name may be different in your country.
Depo-Pred 40 mg
Composition
Each Ampoule of 1 ml contains:
Methylprednisolone Acetate: 40 mg.
Excipient: S. Q. for Ampoule of 1 ml.
Indications
For intramuscular administration:
Rheumatic disorders:
For short-term administration, post-traumatic osteoarthritis, synovitis of osteoarthritis, rheumatoid arthritis, including juvenile rheumatoid arthritis, epicondylitis, acute nonspecific tenosynovitis, acute gouty arthritis, psoriatic arthritis, ankylosing spondylitis.
Collagen diseases: As maintenance therapy in selected cases, systemic lupus erythematosus, systemic dermatomyositis, acute rheumatic carditis.
Dermatologic diseases: Pemophigus, stevens-johnson syndrome, exfoliative dermatitis, bullous dermatitis herpetiformis, seborrheic dermatitis, severe psoriasis.
Allergic states: Bronchial asthma, contact dermatitis, allergic rhinitis, drug hypersensitivity reactions, urticarial transfusion reactions, severe acute and chronic allergic involving the eye.
Gastrointestinal diseases: Ulcerative colitis.
Hematologic disorders: Acquired hemolytic anemia, secondary thrombocytopenia in adults, erythroblastopenia (RBC anemia), congenital hypoplastic anemia.
Neoplastic diseases: For palliative management of: Leukemia and lyphomas, acute leukemia of childhood.
Edematous states: To induce diuresis or remission of proteinuria in the nephrotic syndrome, without uremia.
Local injection: keloids Intra-articular – Suitable sites for intra-articular injection are the knee, ankle, wrist, elbow, shoulder, phalanges and hip joints.
Dosage & Administration
Intramuscular administration.
Adults: 40 – 120 mg. (1 – 3 ml) each 10 day.
For Local Administration:
Intra-articular administration depends upon the size of joint: 0.1–2ml (4-80mg).
Intra-dermal: 0.25 – 1.5ml (10-60 mg).
Intra-rectal: 1 – 2ml (40-80 mg) in 100 – 200ml water.
*The information provided above is general in nature and for informational purposes only. It is NOT a substitute for the advice of your doctor. You must always consult your healthcare professional before starting any medication/supplementation program.