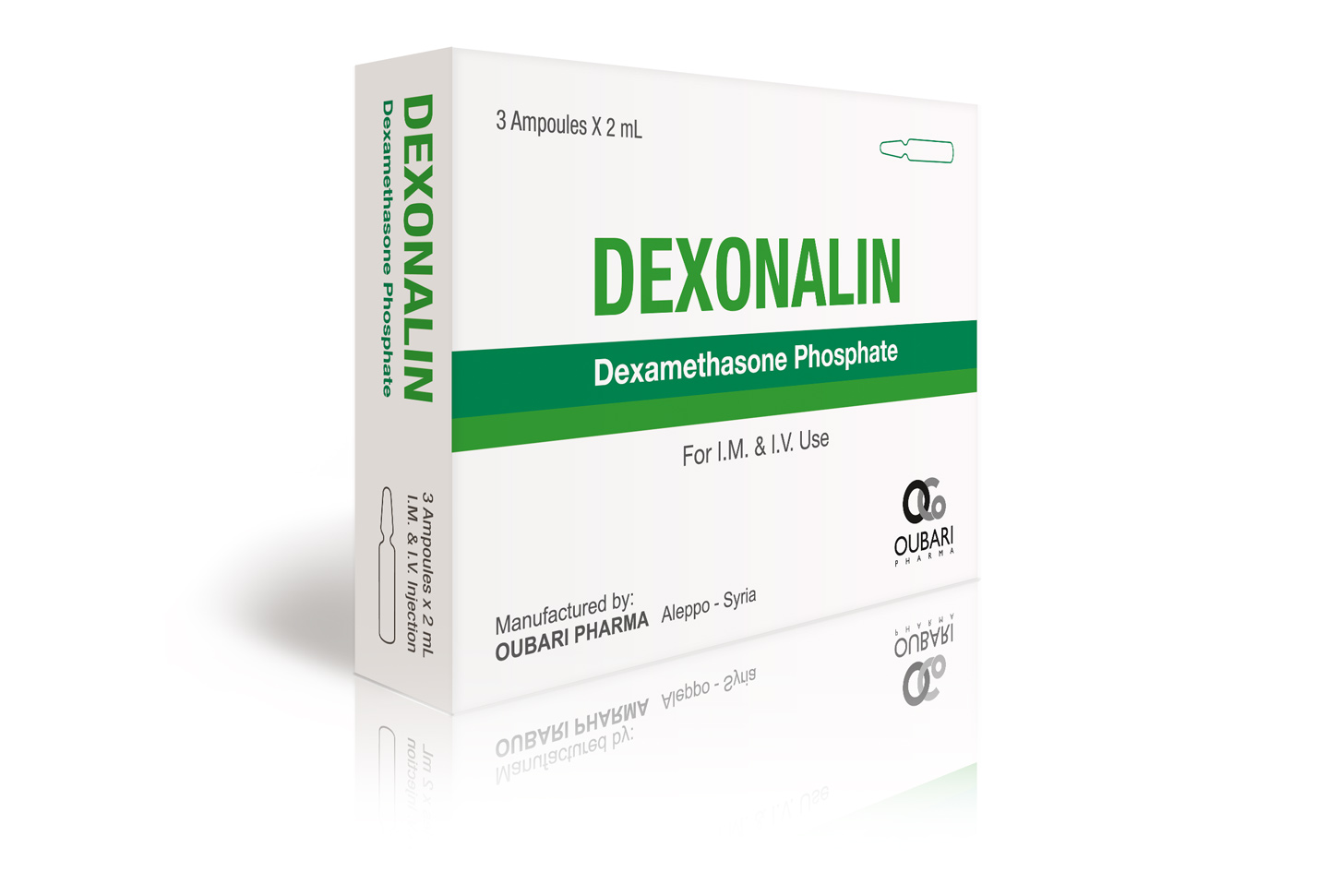 Generic Name: Dexamethasone phosphate
Dosage Form: Ampoules
License: Generic
Category: Corticosteroid
Packaging: 2 mL x 3 Ampoules
More Info
*Packaging design and product name may be different in your country.
Composition
Each  Ampoule of 2 ml contains :
Dexamethasone phosphate (as Dexamethasone sodium phosphate) : 8 mg.
Excipient : S. Q. for Ampoule of 2 ml.
Indications
Conditions where the anti-inflammatory and immunosuppressive effects of the corticosteroids are desirable, especially for intensive treatment during shorter periods.
Dosage & Administration:
Each milliliter contains Dexamethasone sodium phosphate equivalent to 4mg Dexamethasone phosphate.
I.M. & I.V. Injections
The usual dosage of Dexonalin may vary from 0.5 mg to 20 mg per day depending on the specific disease being treated. Usually the parenteral dose is one-third to one-half the oral dose, given every 12 hours.
However, in certain overwhelming; acute life-threatening situations, dosages exceeding the usual recommended dose have been used. In these circumstances, the slower rate of absorption by intramuscular administration should be recognized.
Dosage requirements are variable and must be individualized on the basis of the disease under treatment and the response of the patient.
If the drug is to be stopped after it has been given for more than a few days, it is recommended that it should be withdrawn gradually rather than stopped abruptly.
In emergencies, the usual doses is 1ml to 5ml ( 4mg to 20mg ) I.V. or I.M. (in shock use only the I.V. route). This dose may be repeated until adequate response is noted.
After initial improvement, single doses of 0.5ml to 1ml ( 2mg to 4mg ) should be repeated as necessary. The total daily dosage usually need not to exceed 20ml ( 80mg ) even in severe conditions. When constant maximal effect is desired, dosage must be repeated at three-hour or four-hour intervals, or maintained by slow intravenous drip.
Intravenous and intramuscular injections are advised in acute illness. When the acute stage has passed, substitute oral steroid therapy as soon as feasible.
Shock
(of hemorrhagic, traumatic, surgical or septic origin), the usual dose is 2 to 6 mg / kg  body weight given as a single intravenous injection. This may be repeated in 2 to 6 hours, if shock persists. As an alternative, Dexonalin (Dexamethasone phosphate) injection 2 to 6 mg / kg body weight is given as a single intravenous injection followed immediately by the same dose in an intravenous infusion. Therapy with Dexamethasone phosphate injections are an adjunct to, and not a replacement for, conventional therapy.
Administration of high dose: of corticosteroid therapy should be continued only until the patient's condition has stabilized and usually no longer than 48 to 72 hours.
Cerebral edema
Associated with primary or metastatic brain tumor, neurosurgery, head injury, pseudotumor cerebri or preoperative preparation of patients with increased intracranial pressure secondary to brain tumor: Initially 10mg (2.5ml) of Dexonalin injection intravenously followed by 4mg (1mL) every 6 hours by I.M. injection until the symptoms of cerebral edema subside. Response is usually noted within 12 to 24 hours: dosage may be reduced after 2 to 4 days and gradually discontinued over a period of 5 to 7 days.
High doses of Dexonalin injection are recommended for initiating short-term intensive therapy for acute life-threatening cerebral edema.
Following the high loading dose schedule of the first day of therapy. The dose is scaled down over the 7 – 10 days period of intensive therapy and subsequently reduced to zero over the next 7 – 10 days. When maintenance therapy is required, this should be changed to oral Dexamethasone as soon as possible.
Doses should then be tapered to zero over the ensuring 7 days.
Dual Therapy
In acute self-limited allergic disorders of acute exacerbations of chronic allergic disorders (e.g., acute allergic rhinitis, acute attacks of seasonal allergic bronchial asthma, urticaria medicamentosus, and contact dermatoses).
Intra-Articular, intralesional, and soft-tissues injection
Generally are employed when affected joints or areas are limited to one or two sites.
Some of usual single doses are:
| | | |
| --- | --- | --- |
| Site of Injection | Volume of Injection (ml) | Amount of Dexamethasone Phosphate (mg) |
| – Large joints (e.g., Knee) | 0.5  to 1 | 2  to  4 |
| – Small joints (e.g., Interphalangeal, Temporomandibular) | 0.2  to 0.25 | 0.8  to  1 |
| – Bursae | 0.5  to 0.75 | 2  to  3 |
| – Tendon sheaths | 0.1  to 0.25 | 0.4  to  1 |
| – Soft-tissue infiltration | 0.5  to 1.5 | 2  to  6 |
| – Ganglia | 0.25  to 0.5 | 1  to  2 |
The frequency of injection varies from once every 3 to 5 days to once every 2 to 3 weeks, depending on the response to treatment.
*The information provided above is general in nature and for informational purposes only. It is NOT a substitute for the advice of your doctor. You must always consult your healthcare professional before starting any medication/supplementation program.