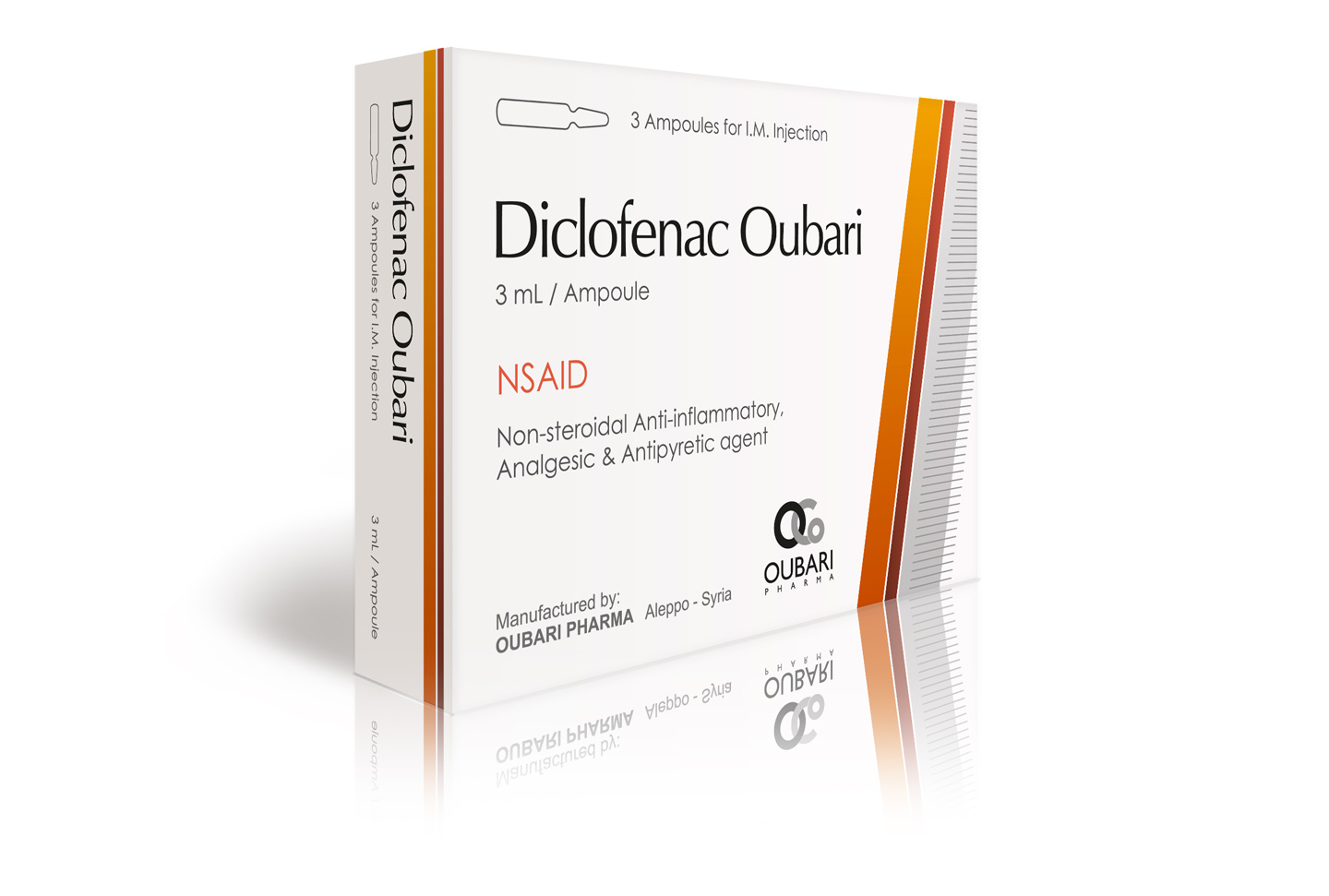 Generic Name: Diclofenac Sodium
Dosage Form: Ampoules
License: Generic
Category: NSAID
Packaging: 3 mL x 3 Ampoules
More Info
*Packaging design and product name may be different in your country.
Description
The active ingredient Diclofenac Sodium belongs to the non-steroidal anti-inflammatory group which inhibits the Biosynthesis of prostaglandin and exhibits marked analgesic and antipyretic properties.
Composition
Each Diclofenac Oubari ampoule of 3 ml contains:
Diclofenac Sodium: 75 mg.
Excipient: S.Q. for one 3 ml ampoule.
Indications
Diclofenac Oubari is indicated in rheumatic inflammatory diseases, acute musculoskeletal disorders, acute gouty attacks, traumatic lesions, post-surgical operation, inflammatory swellings, renal colics, biliary colics, it also helps in reducing severe pain in the ear, nose and throat (it does not indicated in the case of fever only).
Dosage & Administration
Warning: Ampoules should not be used in children under 10 years old.
Adults:
By deep intramuscular injection: In severe conditions, the maximum recommended dosage is two ampoules (75mg) per day and not for more than 2 days , in other cases one ampoule of 75mg / day is recommended.
By intravenous infusion: ( in hospital setting ) 75mg repeated if necessary after 4 to 6 hours, and not for more than 2 days as a maximum.
*The information provided above is general in nature and for informational purposes only. It is NOT a substitute for the advice of your doctor. You must always consult your healthcare professional before starting any medication/supplementation program.