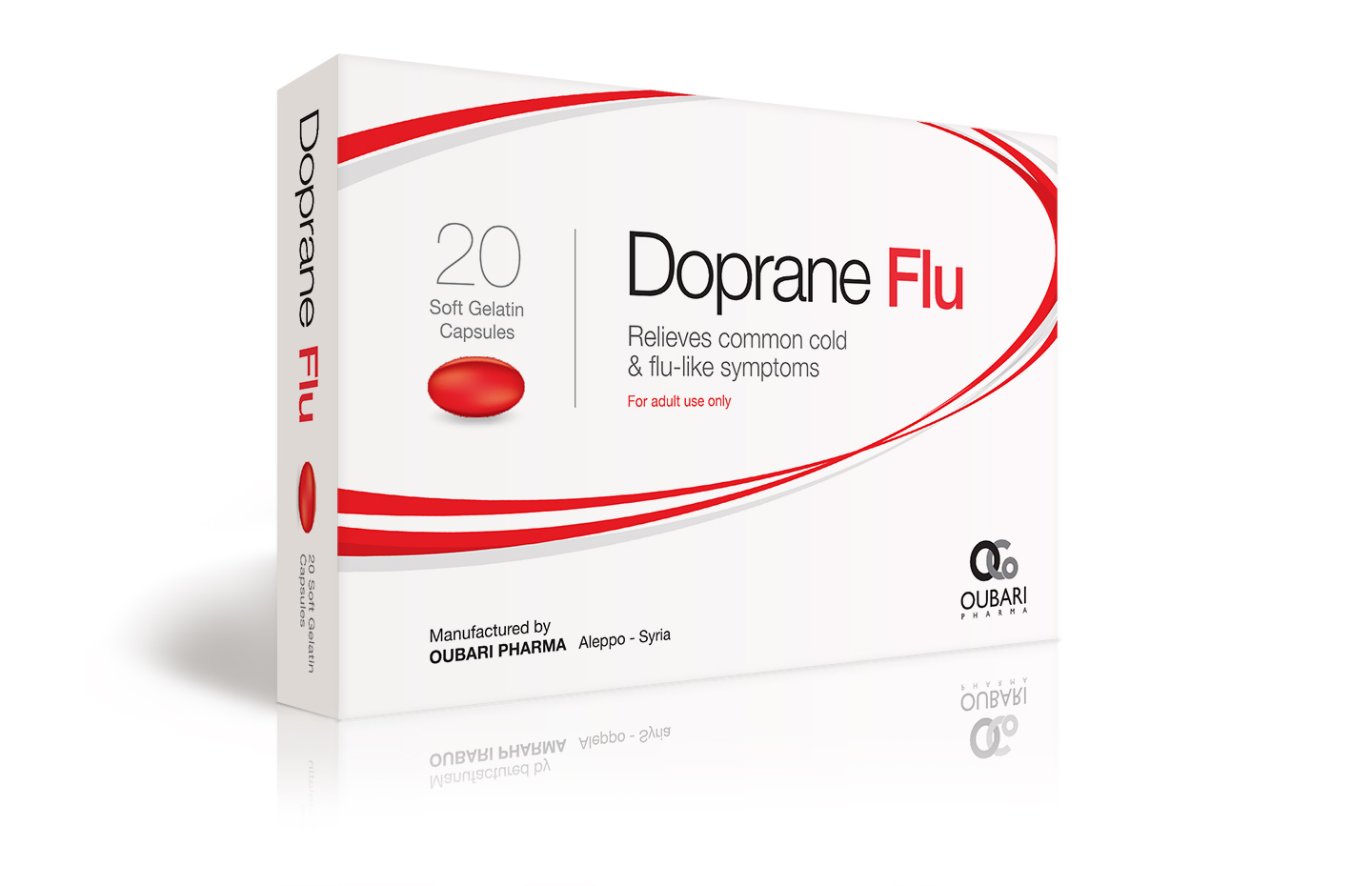 Dosage Form: Soft Gelatin Capsules
License: Generic
Category: Anti-Flu
Packaging: 10 Softgels x 2 Alu/Alu Blisters
More Info
*Packaging design and product name may be different in your country.
Description
Doprane Flu provides temporary relief of colds and coughs. It helps clear nasal and chest congestion and relieves sinus pressure. It also relieves headaches, fevers, body aches, coughs and sore throats due to colds without drowsy or overdrying side effects.
Usage of Doprane Flu is restricted to adults and children over 12 years, and its use in children should be permitted by a physician.
Composition
Each soft-gelatin capsule contains:
Acetaminophen (paracetamol): 250 mg.
Guaifenesin : 100 mg
Pseudoephedrine HCl : 30 mg.
Dextromethorphan Hydrobromide 10 mg.
Excipient: S.Q. for one soft-gelatin capsule.
Indications
For the temporary relief of nasal congestion, minor aches, pains, headache, muscular aches, sore throat and fever associated with the common cold. Temporarily relieves cough occurring with a cold. Helps loosen phlegm (mucus) and thin bronchial secretions to drain bronchial tubs and make coughs more productive.
Dosage & Administration
Adults and children 12 years of age and over:
2 soft- gelatin caps, every 4 hours, while symptoms persist, not to exceed 8 soft- gelatin caps, in 24 hours, or as directed by a doctor.
Children under 12 years of age:
Consult a doctor.
*The information provided above is general in nature and for informational purposes only. It is NOT a substitute for the advice of your doctor. You must always consult your healthcare professional before starting any medication/supplementation program.