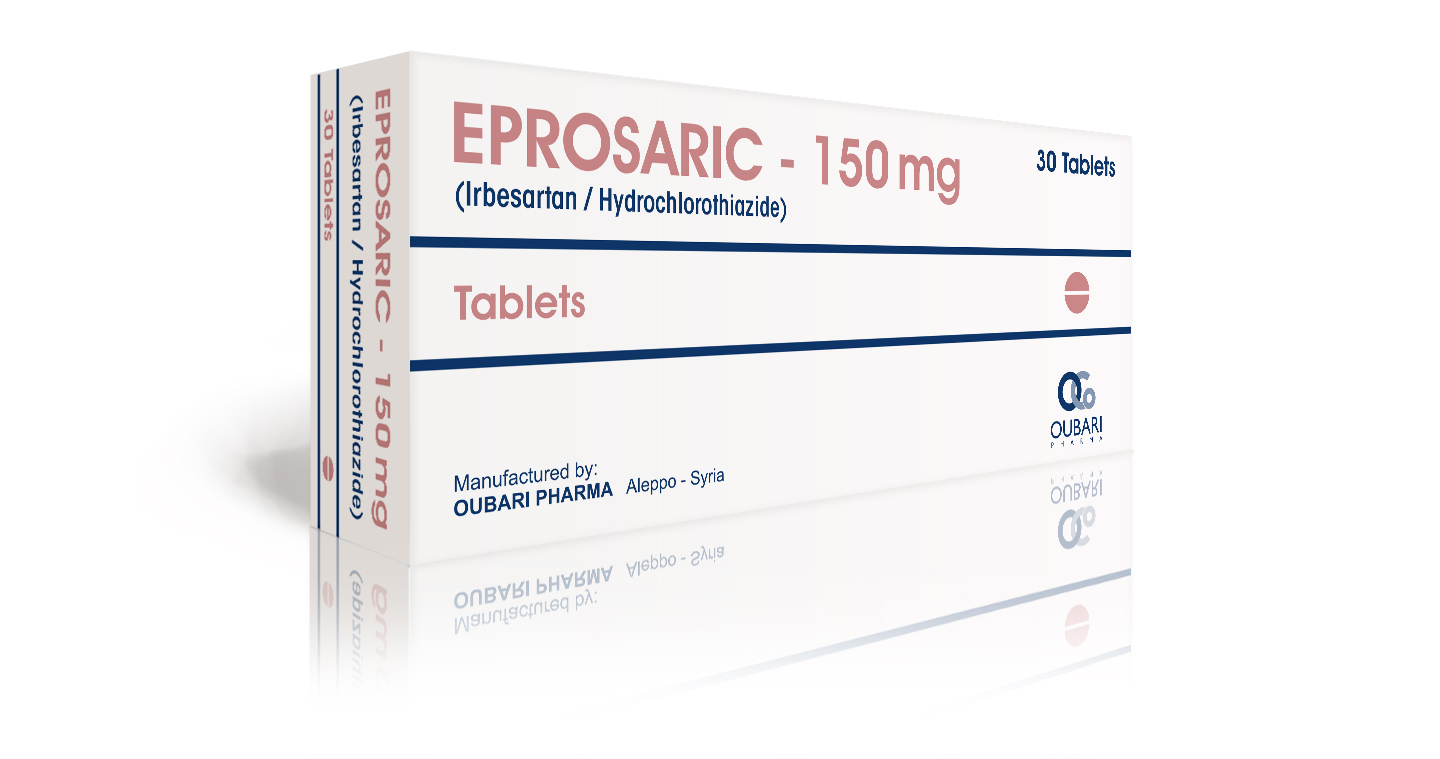 Generic Name: Irbesartan & Hydrochlorothiazide
Dosage Form: Tablets
License: Generic
Category: Antihypertensive
Packaging: 10 tablets x 3 blisters
More Info
*Packaging design and product name may be different in your country.
Eprosaric 150 mg – Tablets
Composition
Each scored tablet contains :
Irbesartan: 150 mg.

Hydrochlorothiazide: 12.5 mg.

Excipients: S.Q. for one scored tablet.
Indications
Eprosaric is used for the treatment of essential hypertension in patients for whom combination therapy is appropriate. Combination drugs like irbesartan and hydrochlorothiazide are usually only prescribed when treatment with a single medication is not effective at lowering blood pressure sufficiently.
Dosage & Administration
Adults:
The usual starting dose is 1 tablet of Eprosaric 150/12.5mg once daily. It will take 2 to 4 weeks for Eprosaric to reach its maximum effectiveness. If blood pressure does not respond to the initial dosage, the dose may be increased to 1 tablet of Eprosaric 300/12.5mg once daily or 2 tablets of Eprosaric 150/12.5mg once daily.
Dosage in Patients with Renal Impairment:
No initial dosage adjustment in Eprosaric is generally necessary in patients with renal impairment, as long as the patients creatinine clearance is > 30mL/min. In patients with more severe renal impairment, loop diuretics are preferred to thiazides, so Eprosaric is not recommended.
Dosage in Patients with Hepatic Impairment:
No dosage adjustment is necessary in patients with hepatic impairment.
Eprosaric may be administered with other antihypertensive agents, and may be administered with or without food.
*The information provided above is general in nature and for informational purposes only. It is NOT a substitute for the advice of your doctor. You must always consult your healthcare professional before starting any medication/supplementation program.