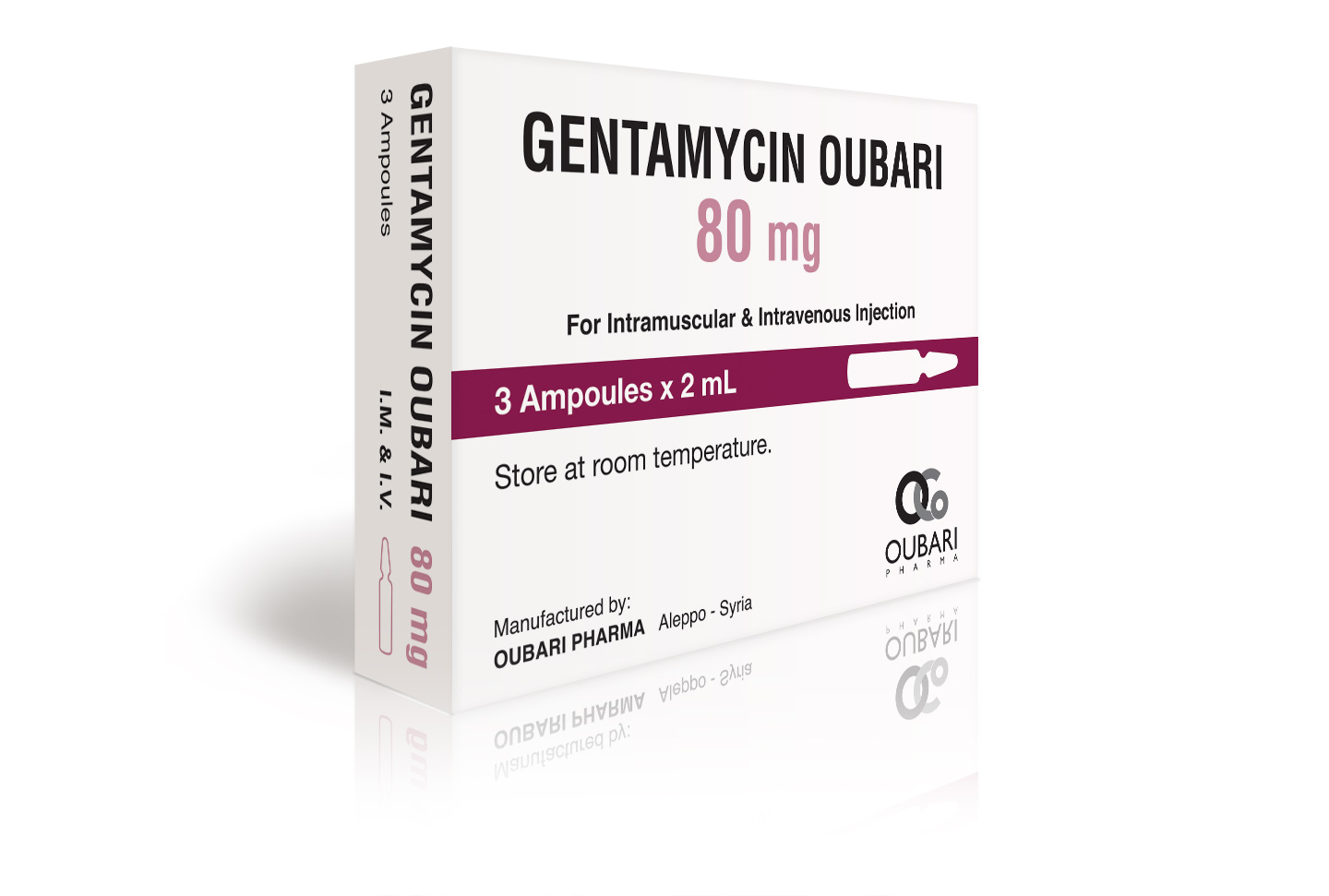 Generic Name: Gentamicin as sulfate
Dosage Form: Ampoules
License: Generic
Category: Antibiotic
Packaging: 2 mL x 3 Ampoules
More Info
*Packaging design and product name may be different in your country.
Composition
Each Gentamycin Oubari 80 mg  ampoule contains :
Gentamicin (sulfate): 80 mg.
Excipients: S.Q. for one 2 mL ampoule.
Indications
Gentamycin Oubari is an antibiotic of aminoglycosides group, it is used as monotherapy in the treatment of bacterial infections caused by gram negative bacilli, in the kidney and urinary tract.
It may be coadministered with another antibiotic in the case of bacterial infections caused by sensitive microorganisms in kidney and urinary tract, Septicemia, Endocarditis, Skin infections; Particularly those caused by Staphylococcus aureus in the facial epidermis; joint infections, respiratory tract infections.
Dosage & Administration
According to physician instructions.
The intramuscular route of administration is preferable than the intravenous one, but if the intramuscular  administration was impossible, it may be given through the I.V route; by diluting the solution of Gentamycin Oubari ampoule with normal saline 0.9% or 5% dextrose, but the dose should not exceed 1mg/kg of body weight, and every 1 mg of Gentamycin Oubari should be diluted with 1ml of normal saline 0.9% or dextrose in water 5% , the amount of serum should be ranged between 100 – 200 ml, and the duration of injection between 30 to 60 minutes.
The dosages are :
In Adults:
3mg per kg daily in 2 to 3 divided intramuscular doses.
In urinary tract infections: 160 mg once daily.
Systemic infections: 80 mg 3 times daily for 7–10 days. If body weight is less than 80 kg, 1mg / kg of body weight every 8 hours.
In Children:
Children:3 mg / kg / day by I.M. route divided into 3 doses ( 1 mg / kg / every 8 hours ).
Infants:3 mg / kg / day by I.M. route divided into 3 doses ( 1 mg / kg / every 8 hours ), with observation of antibiotic plasma level.
Newborn ( including premature baby): 3 – 6 mg / kg / day divided into two doses by I.V. route using perfusion technique, with observation of antibiotic plasma level.
In Elderly:
They can be more susceptible to aminoglycoside toxicity whether secondary to previous eighth nerve impairment or due to borderline renal dysfunction, thereby should be closely monitored by frequent determination of gentamicin serum levels, assessment of renal function and signs of ototoxicity.
Renal Impairment:
Gentamycin Oubari is excreted by simple glomerular filtration; reduced dosage is necessary where renal function is impaired. Nomograms are available for the calculation of the dose.
*The information provided above is general in nature and for informational purposes only. It is NOT a substitute for the advice of your doctor. You must always consult your healthcare professional before starting any medication/supplementation program.