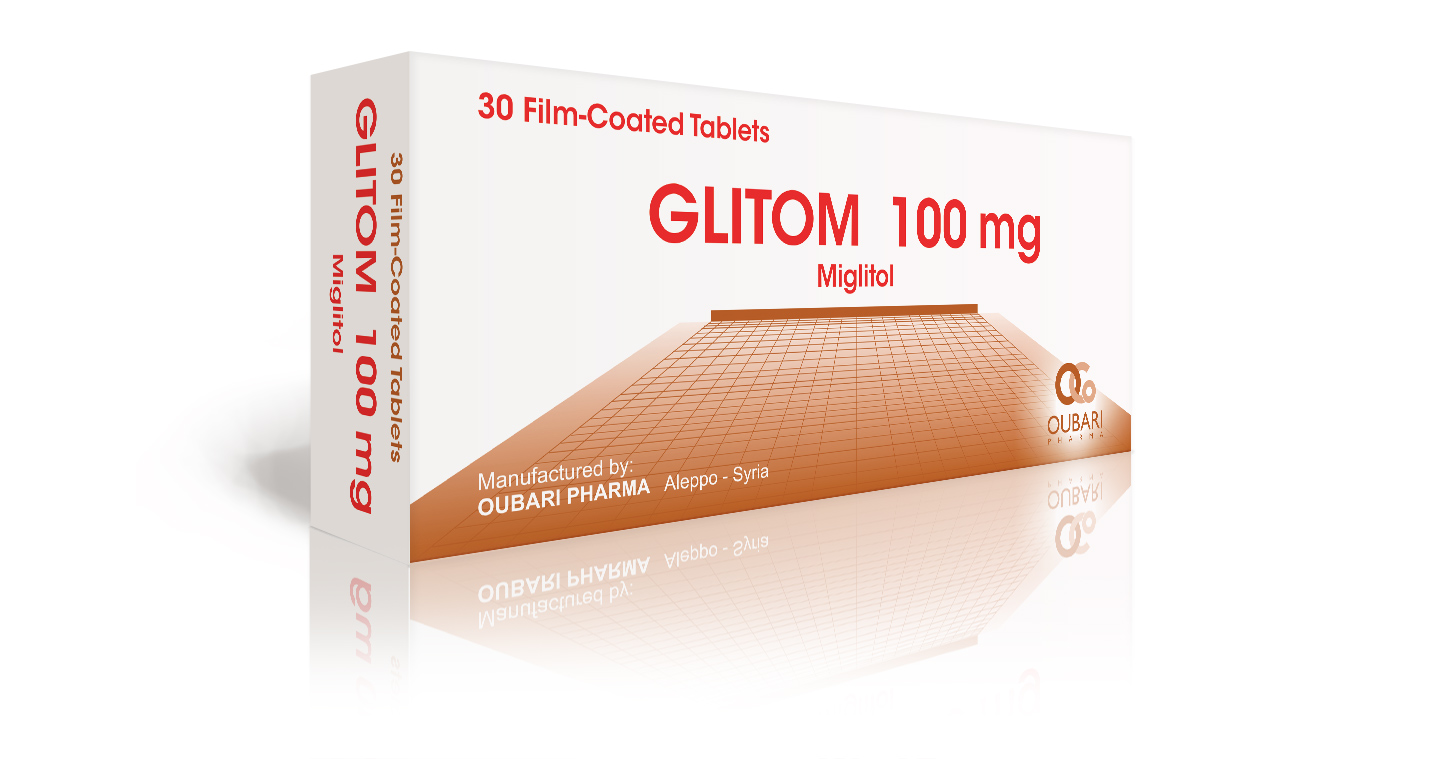 Generic Name: Miglitol
Dosage Form: Film Coated Tablets
License: Generic
Category: Antidiabetics
Packaging: 10 FC Tablets x 3 Blisters
More Info
*Packaging design and product name may be different in your country.
Description
Glitom tablets contain miglitol, an oral alpha-glucosidase inhibitor for use in the management of non-insulin dependent diabetes mellitus.
Composition
Each Glitom 100 mg film-coated tablet contains:
Miglitol : 100 mg .
Excipients: S.Q. for one film-coated tablet.
Indications:
As monotherapy, Glitom is indicated as an adjunct to diet to improve glycemic control in patients with non-insulin-dependent diabetes mellitus whose hyperglycemia cannot be managed with diet alone.
In combination with a sulfonylurea when diet plus either Glitom or a sulfonylurea alone do not result in adequate glycemic control.
The use of Glitom must be viewed as a treatment in addition to diet and not as a substitute for diet or as a convenient mechanism for avoiding dietary restraint.
Dosage & Administration
There is no fixed dosage regimen for the management of diabetes mellitus with Glitom tablets or any other pharmacologic agent.
Dosage should be individualized on basis of both effectiveness and tolerance while not exceeding the maximum recommended dosage of 100mg × 3 times daily.
During treatment initiation and dose titration, one-hour postprandial plasma glucose may be used to determine the therapeutic response to Glitom and identify the minimum effective dose for the patient. Thereafter, glycosylated hemoglobin should be measured at intervals approximately three months.
*The information provided above is general in nature and for informational purposes only. It is NOT a substitute for the advice of your doctor. You must always consult your healthcare professional before starting any medication/supplementation program.