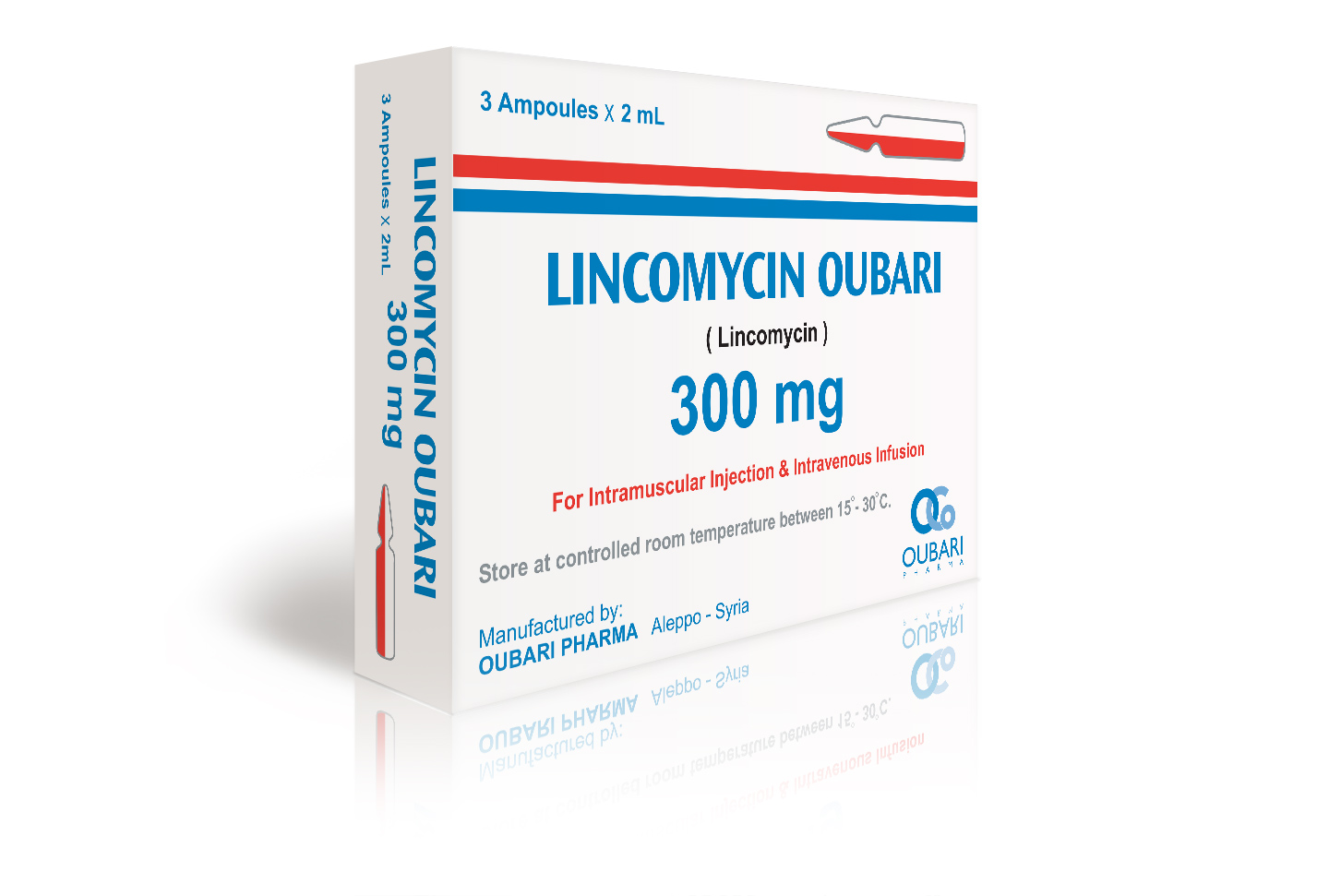 Generic Name: Lincomycin
Dosage Form: Ampoules
License: Generic
Category: Anti-Infective
Packaging: 2 mL x 3 ampoules
More Info
*Packaging design and product name may be different in your country.
Composition
Each Lincomycin Oubari 300 mg ampoule of 2 ml contains : 
Lincomycin HCl equivalent to: 300 mg lincomycin.

Excipients: S.Q. for one ampoule.
Indications
Lincomycin Oubari is indicated in the treatment of serious infections due to susceptible strains of streptococci, pneumococci, and staphylococci.
Lincomycin has been demonstrated to be effective in the treatment of staphylococcal infections resistant to other antibiotics and susceptible to lincomycin. Staphylococcal strains resistant to lincomycin have been recovered; culture and susceptibility studies should be done in conjunction with therapy with lincomycin. In the case of macrolides, partial but not complete cross resistance may occur. The drug may be administered concomitantly with other antimicrobial agents when indicated. 
Dosage & Administration
If significant diarrhea occurs during therapy, this antibiotic should be discontinued.
Intramuscular
Adults
Serious infections – 600mg (2ml) intramuscularly every 24 hours. More severe infections – 600mg (2ml) intramuscularly every 12 hours or more often.
Children over 1 month of age
Serious infections – one intramuscular injection of 10mg/kg every 24 hours. More severe infection – one intramuscular injection of 10mg/kg every 12 hours or more often.
Intravenous
Adults:
The intravenous dose will be determined by the severity of the infection. For serious infections doses of 600mg of lincomycin to 1 gram are given every 8-12 hours. For more severe infections these doses may have to be increased. In life-threatening situations daily intravenous doses of as much as 8 grams have been given. Intravenous doses are given on the basis of 1 gram of Lincomycin Oubari diluted in not less than 100 ml of appropriate solution and infused over a period of not less than one hour.
| | | |
| --- | --- | --- |
| Dose | Vol. Diluent | Time |
| 600 mg | 100 ml | 1 hr |
| 1 gram | 100 ml | 1 hr |
| 2 grams | 200 ml | 2 hr |
| 3 grams | 300 ml | 3 hr |
| 4 grams | 400 ml | 4 hr |
These doses may be repeated as often as required to the limit of the maximum recommended daily dose of 8 grams of Lincomycin.
Children over 1 month of age
10-20 mg/kg/day depending on the severity of the infection may be infused in divided doses as described above for adults.
NOTE: Severe cardiopulmonary reactions have occurred when this drug has been given at greater than the recommended concentration and rate.
Subconjunctival Injection:
0.25ml (75 mg) injected subconjunctivally will result in ocular fluid levels of antibiotic (lasting for at least 5 hours) with MIC's sufficient for most susceptible pathogens.
Patients with diminished renal function:
When therapy with lincomycin is required in individuals with severe impairment of renal function, an appropriate dose is 25 to 30% of that recommended for patients with normally functioning kidneys.
*The information provided above is general in nature and for informational purposes only. It is NOT a substitute for the advice of your doctor. You must always consult your healthcare professional before starting any medication/supplementation program.