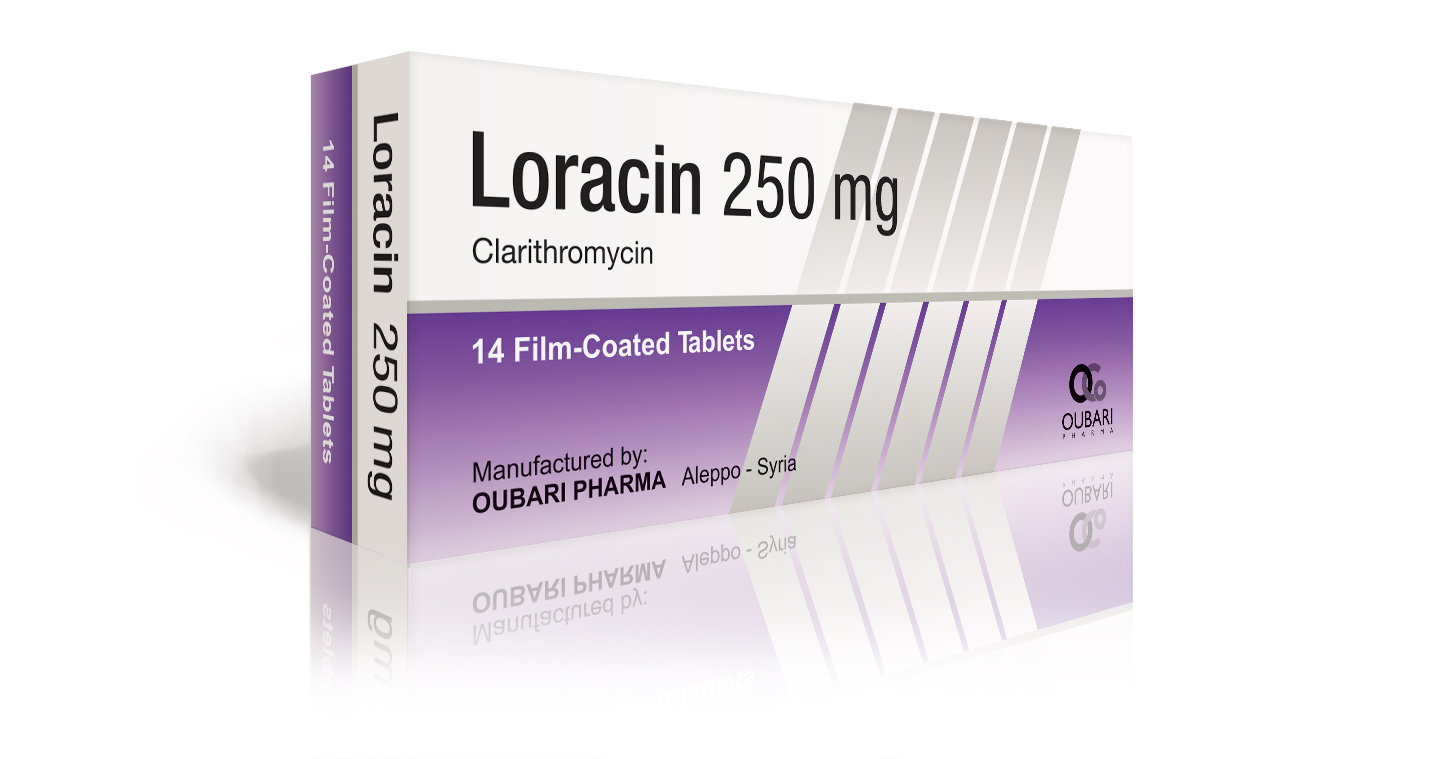 Generic Name: Clarithromycin
Dosage Form: Film-Coated Tablets
License: Generic
Category: Anti-Infective
Packaging: 14 Tablets
More Info
*Packaging design and product name may be different in your country.
Loracin 250 mg – Film-Coated Tablets
Description
Antibiotic from macrolides family can be used for the treatment of infections due to sensitive microorganisms to the product: Streptococcus, Staphylococcus (Methacillin sensitive), Rodococus, Branameils, Bordetella, Helycobacter Pyloris, Campilobacter Gigon, Cornybacterium Diphtheria, Moraxella, Mycoplasma, Coccilla, Chlamydia, Leptospira, Propiony Bacterium
Composition
Each scored film-coated tablet of Loracin 250 mg contains :
Clarithromycin: 250 mg.
Excipients: S.Q. for one film-coated tablet.
Indications
Pharyngitis / Tonsillitis.
Acute sinusitis.
Acute and chronic bronchitis.
Pneumonia.
Uncomplicated skin infections.
Also used in patients with HIV as a protection of mycobacterium avium infections.
Dosage and Administration
According to physician's directions.
Adults:
Tonsillitis, Pharyngitis, uncomplicated skin infections 500 mg / 24 hours one tablet B.I.D.
Acute sinusitis:
1000 mg / 24 hours two tablets B.I.D.
Bronchitis:
500 – 1000 mg / 24 hours according to severity to severity of infection B.I.D.
Mycobacterium avium (AIDS):
2000 mg / 24 hours if patient's weight more than 50 kg.
1500 mg / 24 hours if patient's weight less than
Renal impairment:
Reduced dose (250 mg) once daily.
*The information provided above is general in nature and for informational purposes only. It is NOT a substitute for the advice of your doctor. You must always consult your healthcare professional before starting any medication/supplementation program.