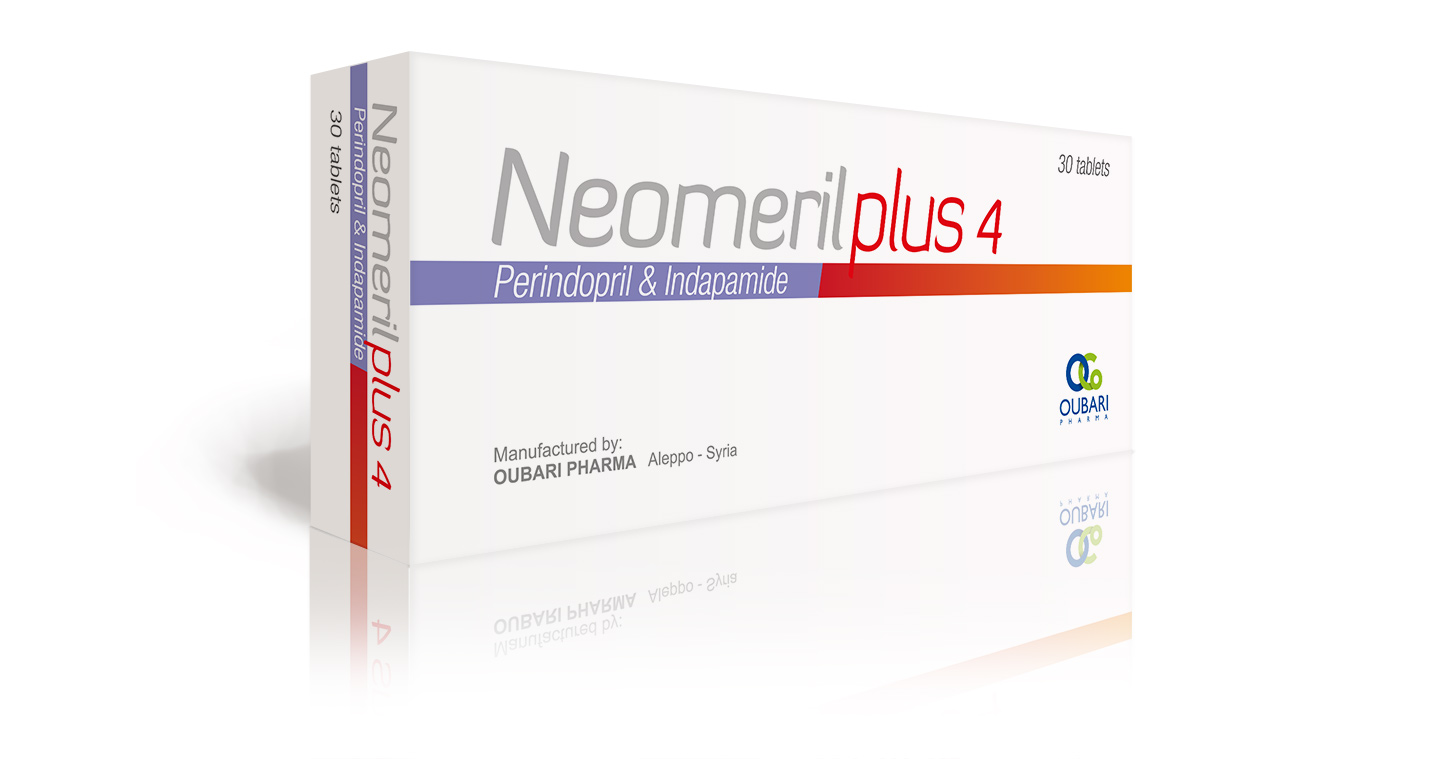 Generic Name: Perindopril & Indapamide
Dosage Form: Tablets
License: Generic
Category: Cardiovascular
Packaging: 15 Tablets x 2 Blisters
More Info
*Packaging design and product name may be different in your country.
Composition
Each Neomeril Plus 4 Tablet contains :
Perindopril tert-butylamine: 4 mg (equivalent to 3.338 of perindopril).
Indapamide: 1.25 mg.
Excipients: S.Q. for one tablet.
Indications
Essential hypertension.
Neomeril Plus tablets should be used only if blood pressure were not adequately controlled on perindopril alone.
Dosage & Administration
The usual recommended dose is one tablet of Neomeril Plus 2 once daily before breakfast, if the blood pressure control is insufficient after one month from the beginning of the treatment, the dose could be doubled.
Geriatrics:
The usual recommended dose is one tablet of  Neomeril Plus 2 once daily.
Patients with renal insufficiency:
The product is contraindicated in severe renal insufficiency (creatinine clearance is below  30 mL/min), in moderate renal insufficiency the maximum daily dose is one tablet once daily of  Neomeril Plus 2 or 4 according to individual response. It is not necessary to adjust the dosage in patients with creatinine clearance over (60 ml/min).
Periodic evaluation for creatinine and potassium level in plasma should be occurred.
Pediatric patients:
Neomeril Plus should not be used in pediatric patients.
*The information provided above is general in nature and for informational purposes only. It is NOT a substitute for the advice of your doctor. You must always consult your healthcare professional before starting any medication/supplementation program.