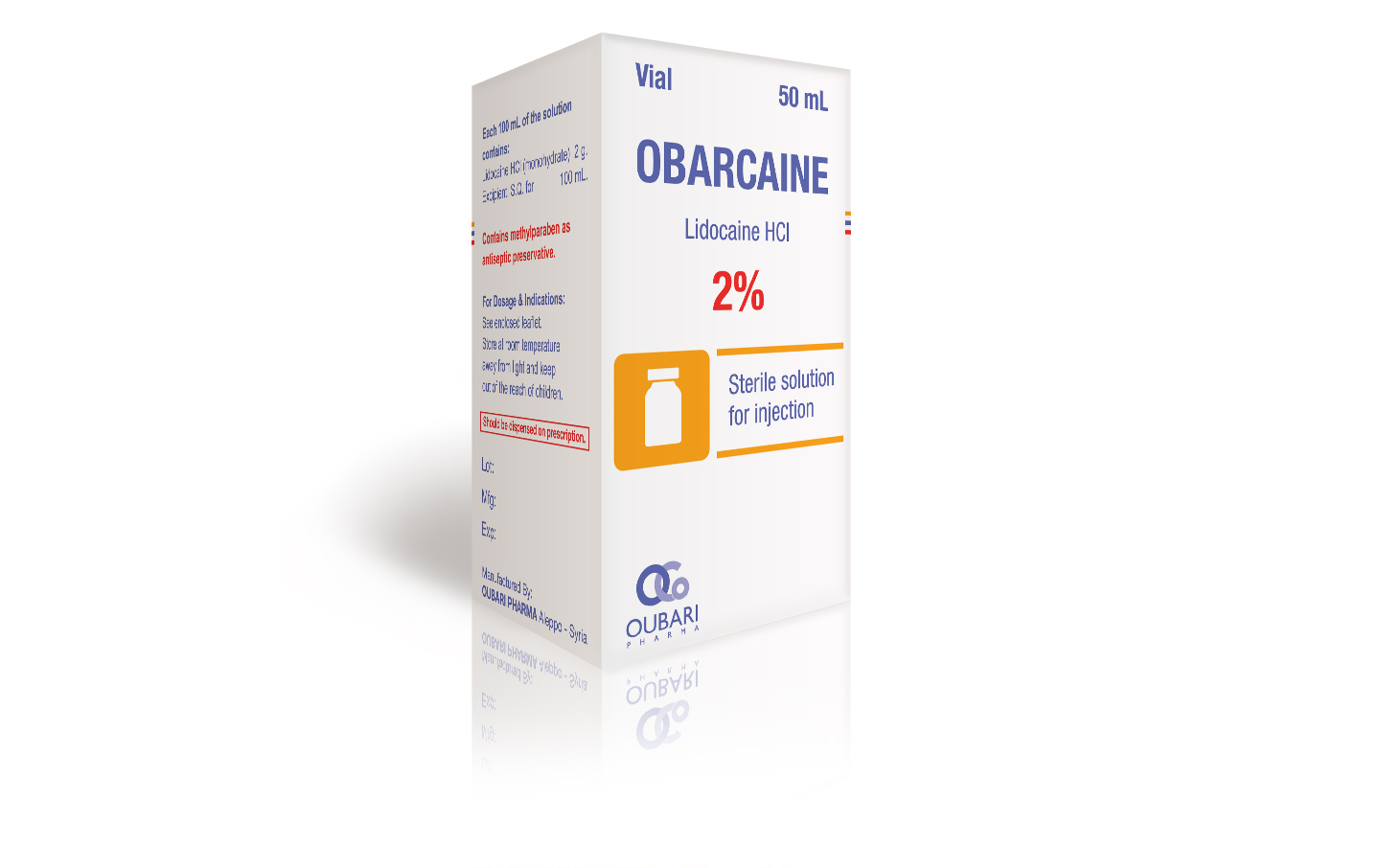 Generic Name: Lidocaine HCl
Dosage Form: Sterile solution for injection
License: Generic
Category: Local Anasthetic
Packaging: 50 mL liquid vial
More Info
*Packaging design and product name may be different in your country.
Obarcaine 2% –  Vial
Description
Obarcaine is a sterile, non pyrogenic, aqueous solution that contains Lidocaine HCl, a local anesthetic agent, which is administered parenterally by injection.
Composition
Each 100 mL contains :
Lidocaine HCl:  2 g.
Excipients: S.Q. for 1oo mL.
Indication
Obarcaine (Lidocaine HCl) 2% 50 ml vials are indicated for production of local anesthesia by infiltration technique such as percutaneous injection, and intravenous regional anesthesia by peripheral nerve block techniques such as brachial plexus and intercostals.
Dosage & Administration
The actual volumes and concentrations to be used depend on type and extent of surgical procedure, depth of anesthesia, and the degree of muscular relaxation required, duration of anesthesia required, and the physical condition of the patient, in all cases the lowest concentration and smallest dose that will produce the desired result should be given. Dosage should be reduced for children and for elderly and debilitated patients and patients with cardiac and / or liver disease. Any increase in volume and concentration of Lidocaine injection will decrease the onset of anesthesia, prolong the duration of anesthesia, provide a greater degree of muscular relaxation.
For epidural anesthesia, only solutions with no bacteriostatic agent should be used.
*The information provided above is general in nature and for informational purposes only. It is NOT a substitute for the advice of your doctor. You must always consult your healthcare professional before starting any medication/supplementation program.