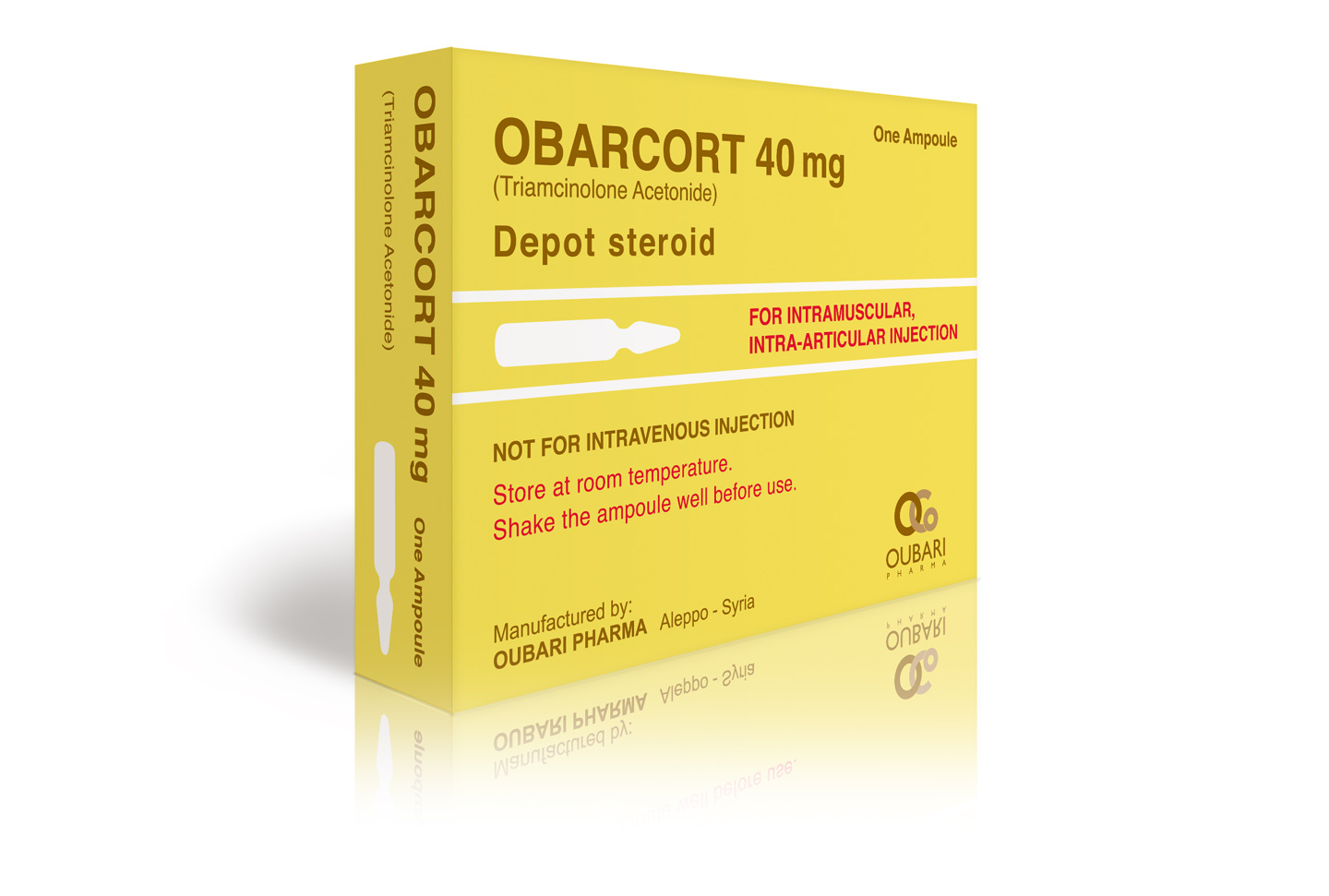 Generic Name: Triamcinolone acetonide
Dosage Form: Ampoules
License: Generic
Category: Depot-corticosteroid
Packaging: 1 mL x 1 Ampoule
More Info
*Packaging design and product name may be different in your country.
Composition
Each 1 mL of the sterile aqueous suspension contains :
Triamcinolone acetonide: 40 mg.
Excipients: S.Q.for 1 mL.
Indications
By Intramuscular Route
Endocrine disorders: Nonsuppurative thyroiditis.
Rheumatic disorders: As adjunctive therapy for short-term administration in : posttraumatic osteoarthritis; synovitis of osteoarthritis; rheumatoid arthritis; acute and subacute bursitis; epicondylitis; acute nonspecific tenosynovitis; acute gouty arthritis; psoriatic arthritis; ankylosing spondylitis; juvenile, rheumatoid arthritis.
Collagen diseases: during an exacerbation or as maintenance therapy in selected cases of: systemic lupus erythematosus, acute rheumatic carditis.
Dermatologic diseases: pemphigus, severe erythema multiforme; exfoliative dermatitis; bullous dermatitis herpetiformis, severe seborrheic dermatitis, severe psoriasis.
Allergic states: control of severe or incapacitating allergic conditions intractable to adequate trials of conventional treatment in : bronchial asthma; contact dermatitis; atopic dermatitis; seasonal or perennial allergic rhinitis.
Ophthalmic diseases: severe chronic allergic and inflammatory processes involving the eye, such as herpes zoster ophthalmicus; iritis; iridocyclitis; chorioretinitis; diffuse posterior uveitis and choroiditis, optic neuritis, sympathetic ophthalmia, anterior segment inflammation.
Respiratory diseases: symptomatic sarcoidosis; berylliosis, aspiration pneumonitis.
Hematologic disorders: acquired hemolytic anemia.
Neoplastic diseases: for palliative management of leukemias and lymphomas in adults; acute leukemia of childhood.
Edematous state: to induce diuresis or remission of proteinuria in the nephrotic syndrome, without uremia, of the idiopathic type or that due to lupus erythematosus.
By Intra-Articular Route
Obarcort 40 mg injection is indicated for intra-articular or intrabursal administration, and for injections into tendon sheaths, as adjunctive therapy for short-term administration in :
synovitis of osteoarthritis, rheumatoid arthritis, acute and subacute bursitis, acute gouty arthritis, epicondylitis; acute nonspecific tenosynovitis; posttraumatic osteoarthritis.
Dosage & Administration
Systemic
For adults and children over 12 years of age:
The suggested initial dose is 60 mg injected deeply into the gluteal muscle. Subcutaneous fat atrophy may occur if care is not taken to inject the preparation intramuscularly.
Dosage is usually adjusted within the range of 40 to 80 mg depending upon patient response and duration of relief. However, some patients may be well controlled on dosages as low as 20 mg or less. Patients with hay fever or pollen asthma who are not responding to pollen administration and other conventional therapy may obtain a remission of symptoms lasting throughout the pollen season after one dose of 40 to 100 mg.
For children from 6 to 12 years of age:
The suggested initial dose is 40 mg, although dosage depends more on severity of symptoms than on age or weight .
Local
For intra-articular or intrabursal administration and for injection into tendon sheaths, the initial dose of Obarcort 40 mg injection may vary from 2.5 mg to 5mg. For smaller joints and from 5 to 15 mg for larger joints depending on the specific disease entity being treated.
For adults, doses up to 10mg for smaller areas and up to 40mg for larger areas have usually been sufficient to alleviate symptoms.
Single injections into several joints for multiple locus involvement, up to a total of 80 mg, have been given without undue reactions. A single local injection of triamcinolone acetonide is frequently sufficient, but several injections may be needed for adequate relief of symptoms. The lower dosages in the initial dosage range of triamcinolone acetonide may produce the desired effect when the corticosteroid is administered to provide a localized concentration. Injections should be carefully considered when triamcinolone acetonide is administered for this purpose.
Administration
Shake the ampoule before use to insure a uniform suspension. After withdrawal, inject without delay to prevent setting in the syringe.
For systemic therapy, injection should be made deeply into the gluteal muscle to insure intramuscular delivery. For adults a minimum needle length of 1 ½ inches is recommended. In obese patients, a longer needle may be required. Use alternate sites for subsequent injections.
For local therapy; for treatment of joints, the usual intra-articular injection technique, should be followed. If an excessive amount of synovial fluid is present in the joint, some, but not all, should  be aspirated to aid in the relief of pain and to prevent undue dilution of the corticosteroid.
With intra-articular or intrabursal administration, and with injection of the drug into tendon sheaths, the use of local anesthetic may often be desirable, and it should be injected into the surrounding soft tissues prior to the injection of the corticosteroid, a small amount of the anesthetic solution may be instilled into the joint.
Epicondylitis (tennis elbow) may be treated by infiltrating the preparation into the area of greatest tenderness.
*The information provided above is general in nature and for informational purposes only. It is NOT a substitute for the advice of your doctor. You must always consult your healthcare professional before starting any medication/supplementation program.