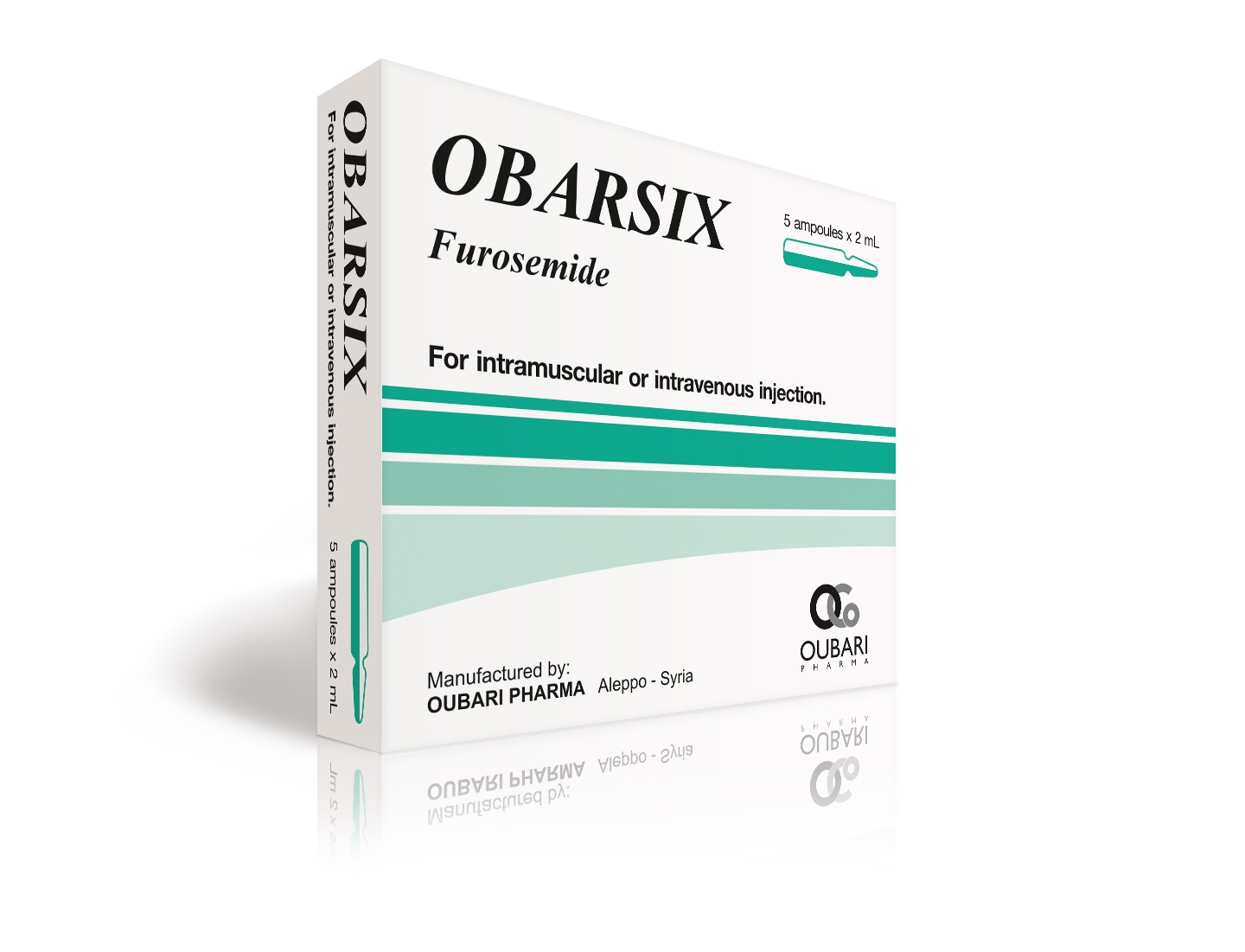 Generic Name: Furosemide
Dosage Form: Ampoules
License: Generic
Category: Diuretic
Packaging: 2 mL x 5 Ampoules
More Info
*Packaging design and product name may be different in your country.
Composition
Each Obarsix Ampoule of 2 mL contains :
Furosemide:  20 mg.
Excipient: S.Q. for ampoule of 2 mL.
Indications
Obarsix is suitable for the short and long term treatment of disorders in which there is an interstitial accumulation of liquid (Oedema).
In cardiac Oedema due to decompensated cardiac insufficiency, congestion of the lungs or liver and Oedema of the lower extremities.
In renal Oedema, hepatogenic Oedema and complications of pregnancy…etc.
Intravenous administration is generally confined to emergency situations, e.g. lung Oedema, brain Oedema, burns with associated Oedema, poisoning.
Dosage & Administration
In case of lung Oedema Obarsix should be given in a dosage of 1mg/kg body weight.
1-2 ampoules of Obarsix may be administered for initial therapy in cases of Brain Oedema. Infusion of similar doses in electrolyte solutions is suitable for subsequent treatment.
Adults
20 – 40 mg as a maximum dose 2 to 4 times daily.
Children
1 mg / kg up to 20 mg daily as a maximum dose.
Or according to the physician instructions
*The information provided above is general in nature and for informational purposes only. It is NOT a substitute for the advice of your doctor. You must always consult your healthcare professional before starting any medication/supplementation program.