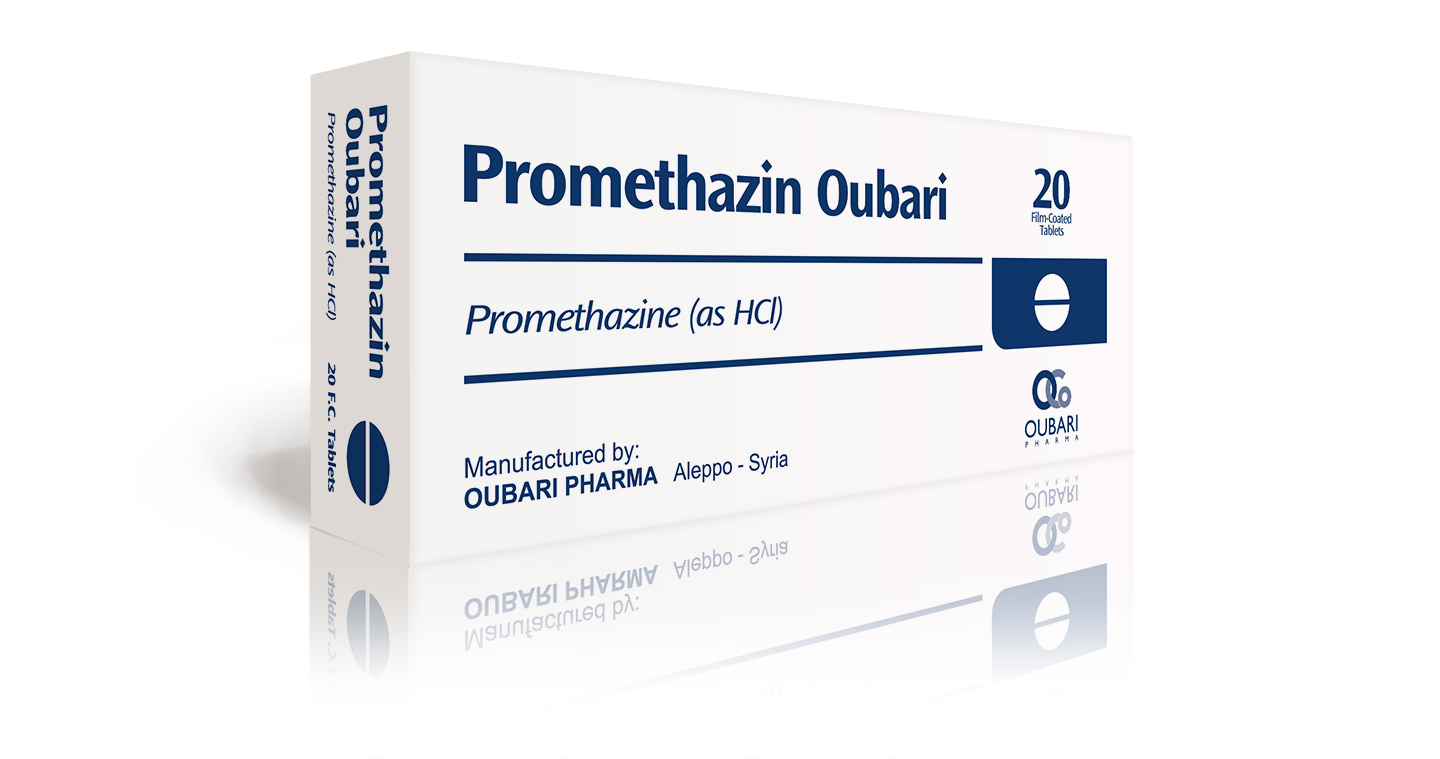 Generic Name: Promethazine (as HCl)
Dosage Form: Tablets
License: Generic
Category: Anti-Histamines
Packaging: 20 Tablets x 1 Blister
More Info
*Packaging design and product name may be different in your country.
Promethazin Oubari – Film-Coated Tablets
Composition
Each film-coated tablet of Promethazin Oubari contains :
Promethazine (as hydrochloride): 25 mg.
Excipients: S.Q. for one film-coated tablet.
Indications
Symptomatic treatment of various allergic manifestations: spasmodic rhinitis (periodic or aperiodic), conjunctivitis, Quincke's edema, urticaria.
Symptomatic adjuvant treatment of pruriginous dermatologic diseases (eczema, prurigo…), Common insomnia in adults, Motion sickness.
Dosage and Administration
Adults:
Injections restricted to emergency cases:
1 to 2 ampules in deep intramuscular injections or in intravenous infusion.
Orally:
2 to 6 tablets per day in several administrations during meals, the highest dose will be given in the evening before sleep.
In indications requiring low doses:
2 to 10 teaspoonfuls of syrup per day in the same conditions.
In insomnia:
1 tablet in the evening.
Children:
The syrup form is recommended: the daily dose will be:
Under 2 years of age: ½ to 3 teaspoonfuls.
2 years to 5 years of age: 3 to 5 teaspoonfuls.
5 years to 10 years of age: 5 to 10 teaspoonfuls.
In several administrations, the highest being given in the evening:
or 1 to 4 film-coated tablets.
*The information provided above is general in nature and for informational purposes only. It is NOT a substitute for the advice of your doctor. You must always consult your healthcare professional before starting any medication/supplementation program.