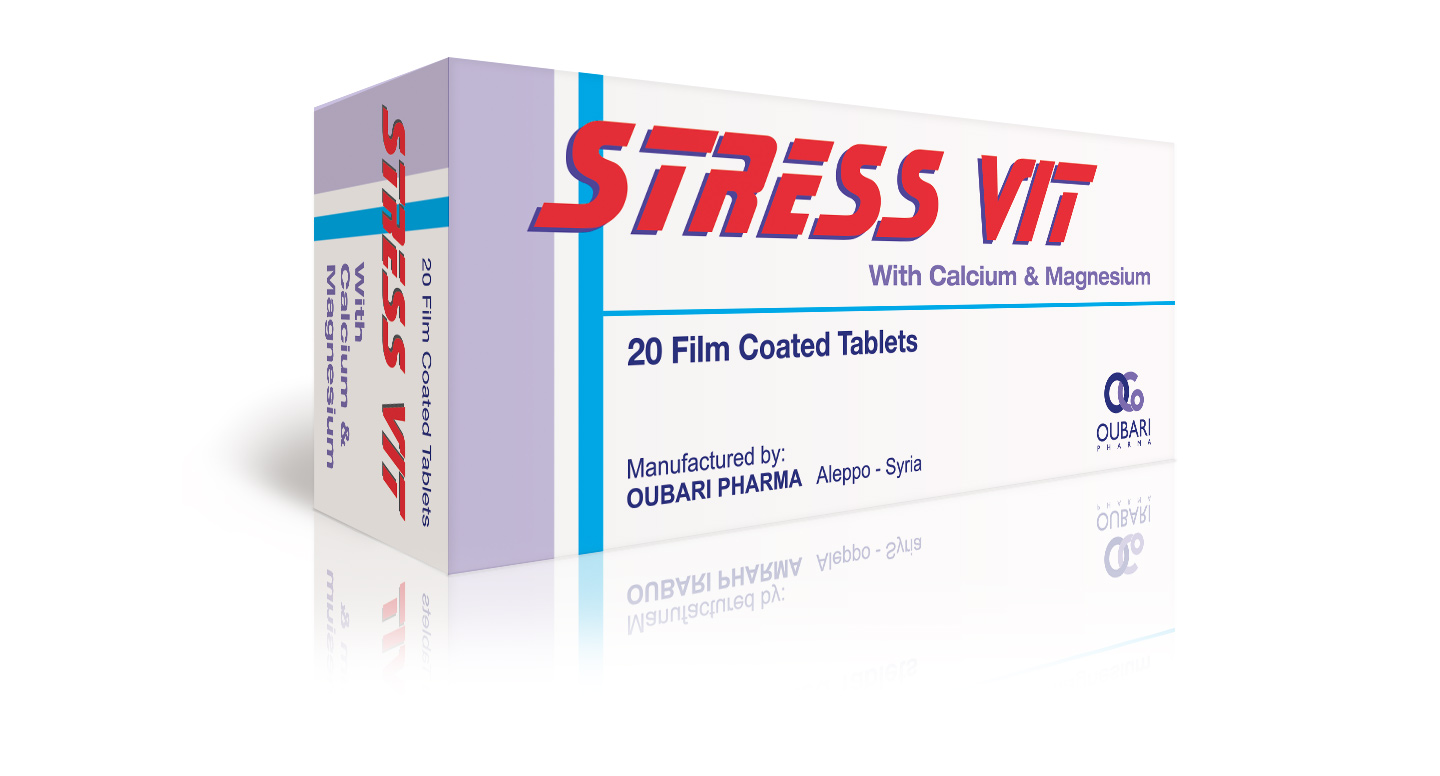 Dosage Form: Film Coated Tablets
License: Generic
Category: Vitamins & Minerals
Packaging: 5 Tablets x 4 Blisters
More Info
*Packaging design and product name may be different in your country.
Composition
Each film-coated tablet of Stress vit contains :
Vit. B

1

: 15 mg.

Vit. B

2

: 15 mg.

Vit. B

6

: 10 mg.

Vit. B

12

: 10 mcg.

Niacin: 50 mg.

Pantothenic Acid: 23 mg.

Biotin: 150mcg.

Calcium: 100 mg.

Magnesium: 100 mg.

Vitamin C: 500 mg.

Excipients: S.Q. for one film-coated tablet.
Indications
Stress vit is indicated for supportive nutritional supplementation in which water-soluble vitamins and minerals are required prophylactically or therapeutically, these include the conditions causing depletion or reduced absorption or bioavailabilitiy of these vitamins and minerals. The deficiencies of daily requirements levels of these substances may occur as a result of unbalanced or inadequate nutrition, infectious diseases, excessive physical exertion, excessive consumption of alcohol, and gastrointestinal disorders.
Stress vit is used after surgical operations, and after recovery from wounds, burns, and ulcers, besides cases of chronic alcoholism and febrile illnesses.
Stress vit can be also used in case of malnutrition because of anorexia.
Stress vit may be used during pregnancy and breast-feeding as long as the normal daily requirements of the included vitamins and minerals are not exceeded.
Dosage & Administration
One coated tablet daily for adults, with a glass of water during meals.
*The information provided above is general in nature and for informational purposes only. It is NOT a substitute for the advice of your doctor. You must always consult your healthcare professional before starting any medication/supplementation program.