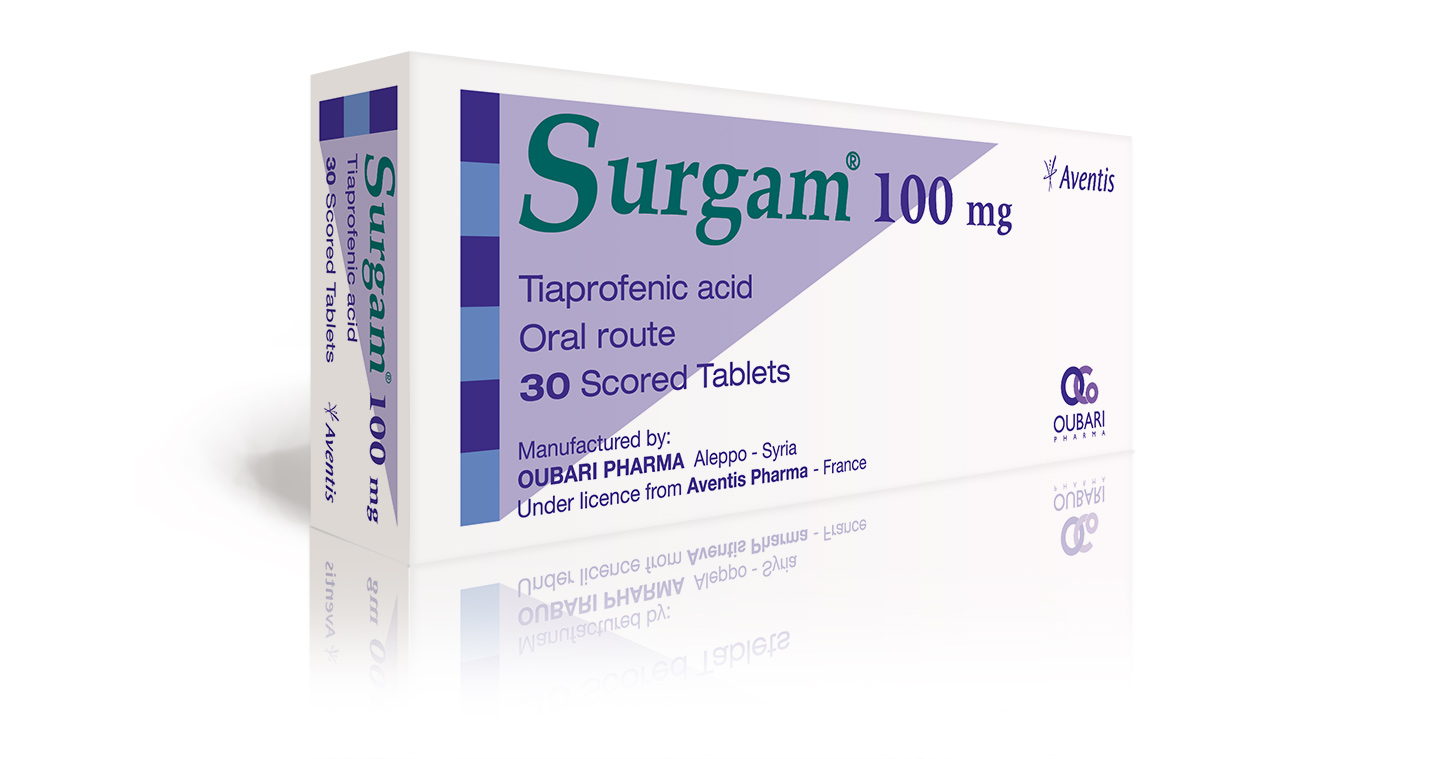 Generic Name: Tiaprofenic acid
Dosage Form: Tablets
License: Sanofi
Category: NSAID
Packaging: 10 Tablets x 3 Blisters
More Info
*Packaging design and product name may be different in your country.
Composition
Each scored film-coated tablet of Surgam 100 mg  contains :
Tiaprofenic acid : 100 mg.
Excipients : S.Q. for one scored tablet.
Indications
Rheumatoid arthritis; osteoarthritis; ankylosing spondylitis; low back pain; musculo-skeletal disorders such as fibrositis; capsulitis; epicondylitis and other soft-tissue inflammatory conditions; sprains and strains; post-operative inflammation and pain, and other soft-tissue injuries.
Dosage & Administration
The dosage varies with the indication.
In adults:
the dosage ranges from 3 to 6 tablets of 100 mg, i.e. 300 to 600 mg maximum per day.
In children:
the dosage depends on their weight. It is 10 mg / kg per day,or as a guideline:
from 15 to 20 kg (about 4 to 6 years): 1 / 2 tablet of 100 mg, 3 times daily, to 1 tablet of 100 mg, twice daily, i.e. 150 to 200 mg daily;
from 20 to 30kg (about 6 to 10 years): 1 tablet of 100 mg, 2 to 3 times daily, i.e. 200 to 300mg daily;
from 30 kg (from about 10 years): 1 tablet of 100 mg, 3 times daily, i.e. 300 mg daily.
The approximate ages for weights are given for guidance.
*The information provided above is general in nature and for informational purposes only. It is NOT a substitute for the advice of your doctor. You must always consult your healthcare professional before starting any medication/supplementation program.