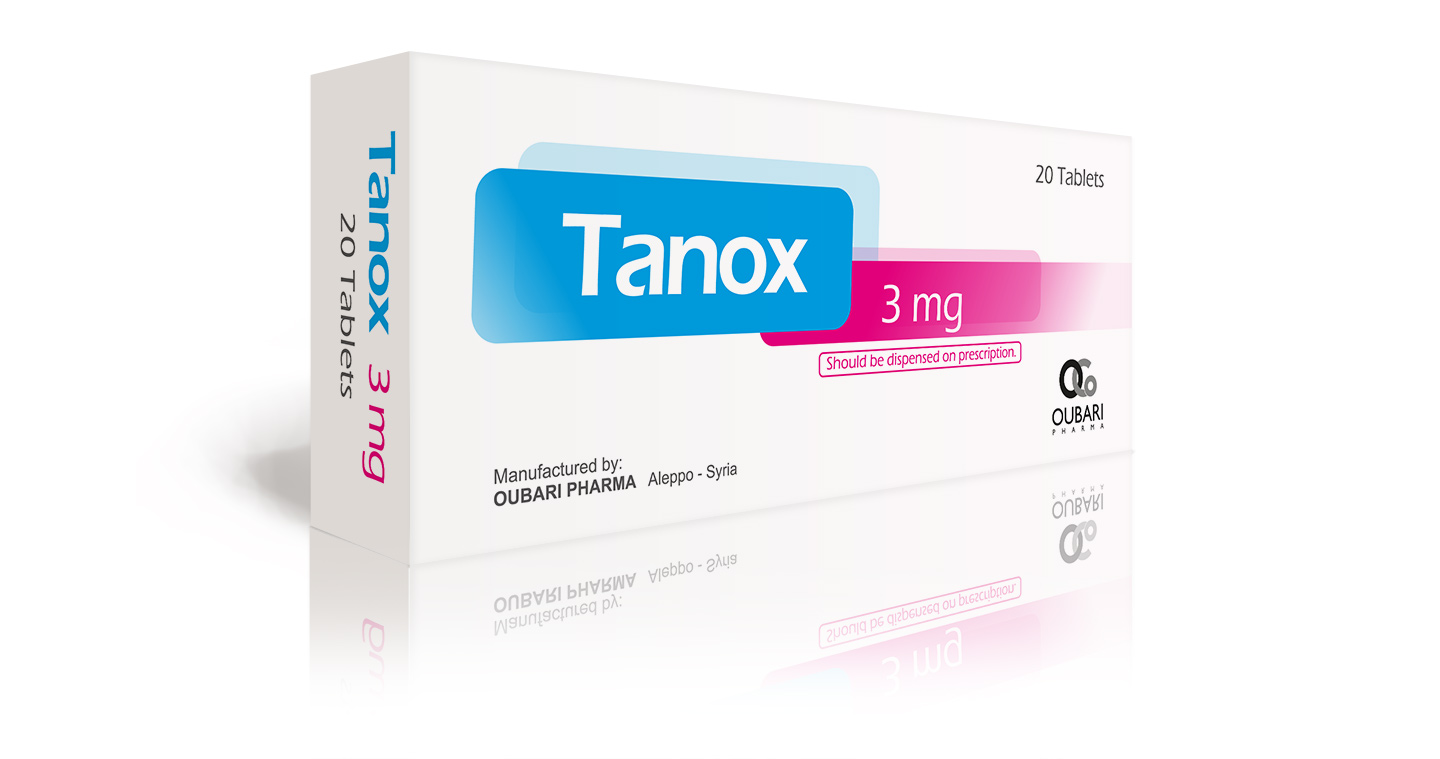 Generic Name: Bromazepam
Dosage Form: Tablets
License: Generic
Category: Anxiolytic
Packaging: 20 Tablets x 1 Blister
More Info
*Packaging design and product name may be different in your country.
Composition
Each scored film-coated tablet of Tanox 3 mg contains :
Bromazepam : 3 mg.
Excipients: S.Q. for one tablet.
Indications
Emotional disturbances:
Anxiety and tension states, anxious, depressive mood, nervous tension, agitation and insomnia.
Anxiety and tension related:
Functional disturbances of the cardiovascular and the respiratory systems such as pseudoangina pectoris, pericardial anxiety, tachycardia, emotiogenic hypertension, dyspnea and hyperventilation.
Functional disturbances of the gastrointestinal tract, including irritable bowel syndrome, ulcerative colitis, epigastric pain, spasm, bloating and diarrhea.
Functional disturbances of genito-urinary tract, for instance irritable bladder, urinary frequency and dysmenorrheas.
Other psychosomatic disturbances such as psychogenic headache and psychogenic dermatitis.
Dosage & Administration
Average dosage for outpatient therapy:
1.5 – 3 mg up to three times daily.
Severe cases, especially in hospital:
6 – 12 mg two or three times daily.
These amounts are general recommendations, and dosage should be individually determined. Treatment of outpatients should begin with low doses, gradually increasing to the optimum level. After several weeks, but no later than three months, according to progress in therapy. An attempt should be made to withdraw treatment.
Treatment of three months or less does not as a rule cause any problems. Should it be necessary to continue therapy beyond this point, withdrawal should be gradual.
*The information provided above is general in nature and for informational purposes only. It is NOT a substitute for the advice of your doctor. You must always consult your healthcare professional before starting any medication/supplementation program.