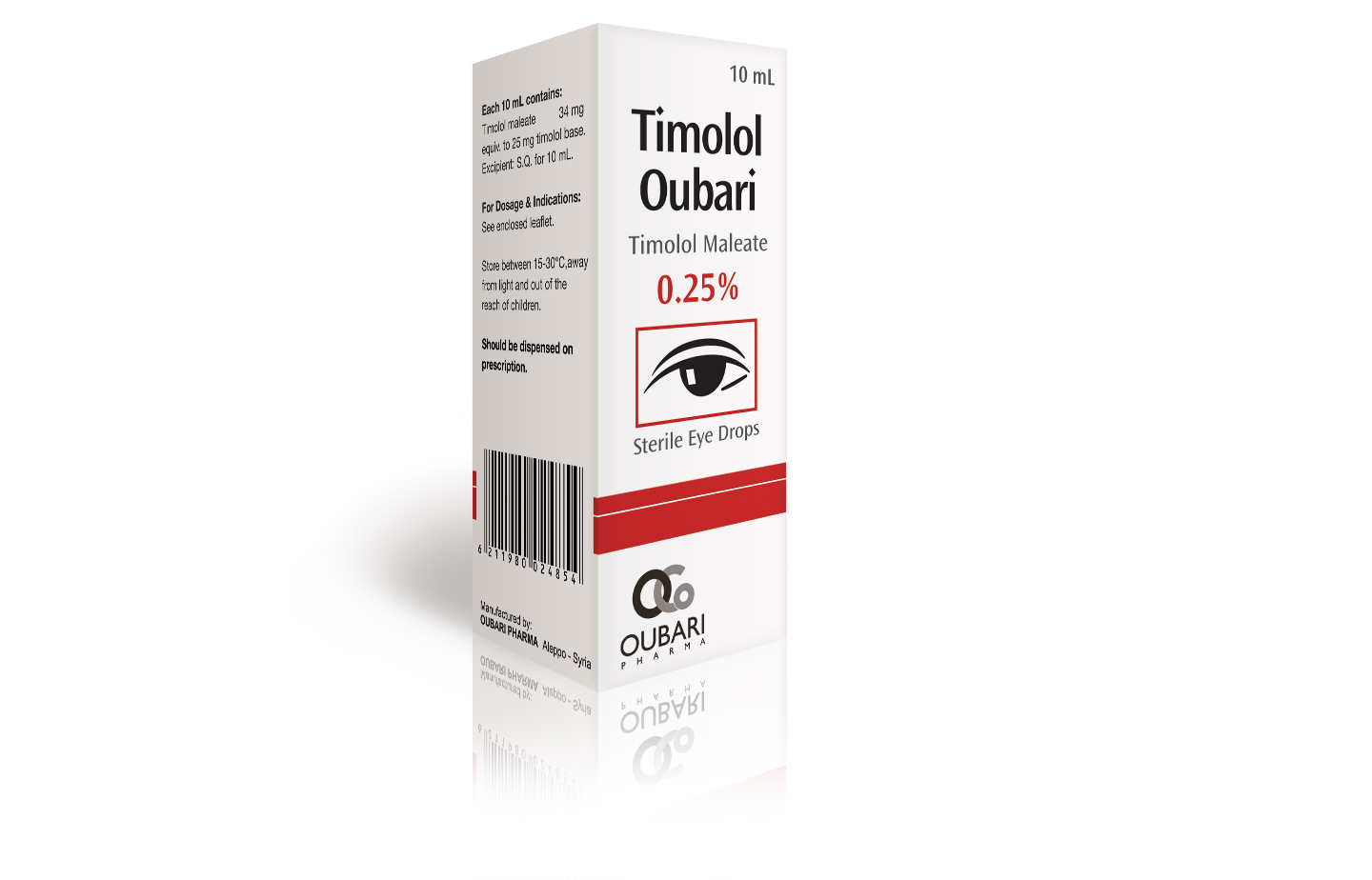 Generic Name: Timolol Maleate
Dosage Form: Eye Drops
License: Generic
Category: I.O.P. lowering agent
Packaging: 10 mL Bottle
More Info
*Packaging design and product name may be different in your country.
Timolol Oubari 0.25% – Eye Drops
Description
Timolol Oubari eye drops is a non-selective beta –adrenergic receptor blocking agent.
Composition
Each mL of Timolol  Oubari 0.25% eye drops contains :
Timolol maleate: 3.4 mg (equivalent to 2.5 mg of timolol base).
Excipient: S.Q. for 10 mL.
Indications
Timolol Oubari eye drops is indicated in the treatment of elevated intraocular pressure in patients with ocular hypertension or open angle glaucoma.
Dosage and Administration
Timolol ophthalmic solution is available in concentration of 0.25% and 0.5%. The usual starting dose is one drop of 0.25% in the affected eye (s) twice a day. If the clinical response is not adequate, the dosage may be changed to one drop of Timolol Oubari  0.5% solution in the affected eye (s) twice a day. The pressure-lowering response to Timolol Oubari  eye drops may require a few weeks to stabilize, evaluation should include a determination of intraocular pressure after approximately 4 weeks of treatment with Timolol eye drops.
If the intraocular pressure is maintained at satisfactory levels, the dosage schedule may be changed to one drop once a day in the affected eye (s).
The satisfactory response to the once – a – day dose is best determined by measuring the intraocular pressure at different times during the day. Dosage above one drop of 0.5% twice daily generally have not been shown to produce further reduction in intraocular pressure.
If patient's intraocular pressure is still not at a satisfactory level on this regimen, concomitant therapy with other agent (s) for lowering intraocular pressure can be instituted.
The concomitant use of two topical beta-adrenergic blocking agents is not recommended.
*The information provided above is general in nature and for informational purposes only. It is NOT a substitute for the advice of your doctor. You must always consult your healthcare professional before starting any medication/supplementation program.