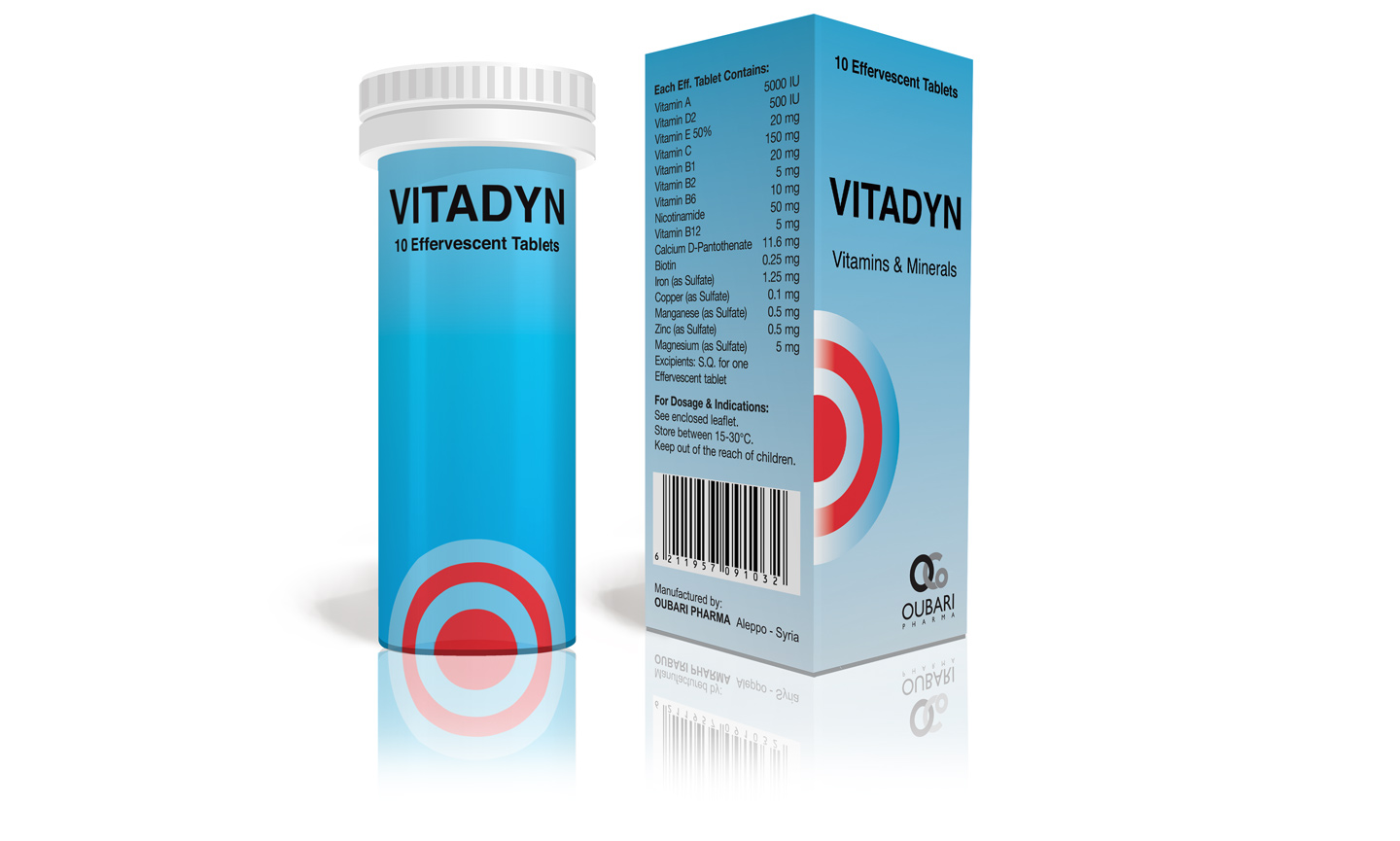 Dosage Form: Effervescent Tablets
License: Generic
Category: Vitamins & Minerals
Packaging: 10 Effervescent Tablets
More Info
*Packaging design and product name may be different in your country.
Vitadyn – Effervescent Tablets
Composition
Each Vitadyn Effervescent tablet contains :
Vitamin A: 5000 I.U.

Vitamin B6: 10 mg.

Zinc (as sulphate): 0.5 mg.

Nicotinamide 50: mg.

Magnesium (as sulphate): 5 mg.

Vitamin B12: 5 μg.

Vitamin D2: 500 I.U.

Vitamin E (50%): 20 mg.  

Vitamin B1: 20 mg.

Copper (as sulphate): 0.1 mg.

Vitamin B2: 5 mg.

Manganese (as sulphate): 0.5 mg.

Calcium Pantothenate: 11.60 mg.

Biotin (Vitamin H): 0.25 mg.

Vitamin C: 150 mg.

Iron (as sulphate):1.25 mg.

Excipient: Q.S. for 1 effervescent tablet.
Indications
Inadequate vitamins intake, as: 

Malabsorption, Nutrition problems in old age, Loss of appetite, Weight reducing diets, and Chronic alcoholism.

Increase vitamins requirement, as in: 

During acute and chronic diseases, Post-surgical state, During and after treatment with antibiotics and chemotherapeutic agents.
Vitadyn can be used for the treatment in diseases due to lack of vitamins and minerals as Pellagra, Beri-Beri, and in mouth inflammations.
Dosage & Administration
One effervescent tablet daily to be dissolved in a glass of water for adults and children over 12 years, or according to physician's instructions.
*The information provided above is general in nature and for informational purposes only. It is NOT a substitute for the advice of your doctor. You must always consult your healthcare professional before starting any medication/supplementation program.