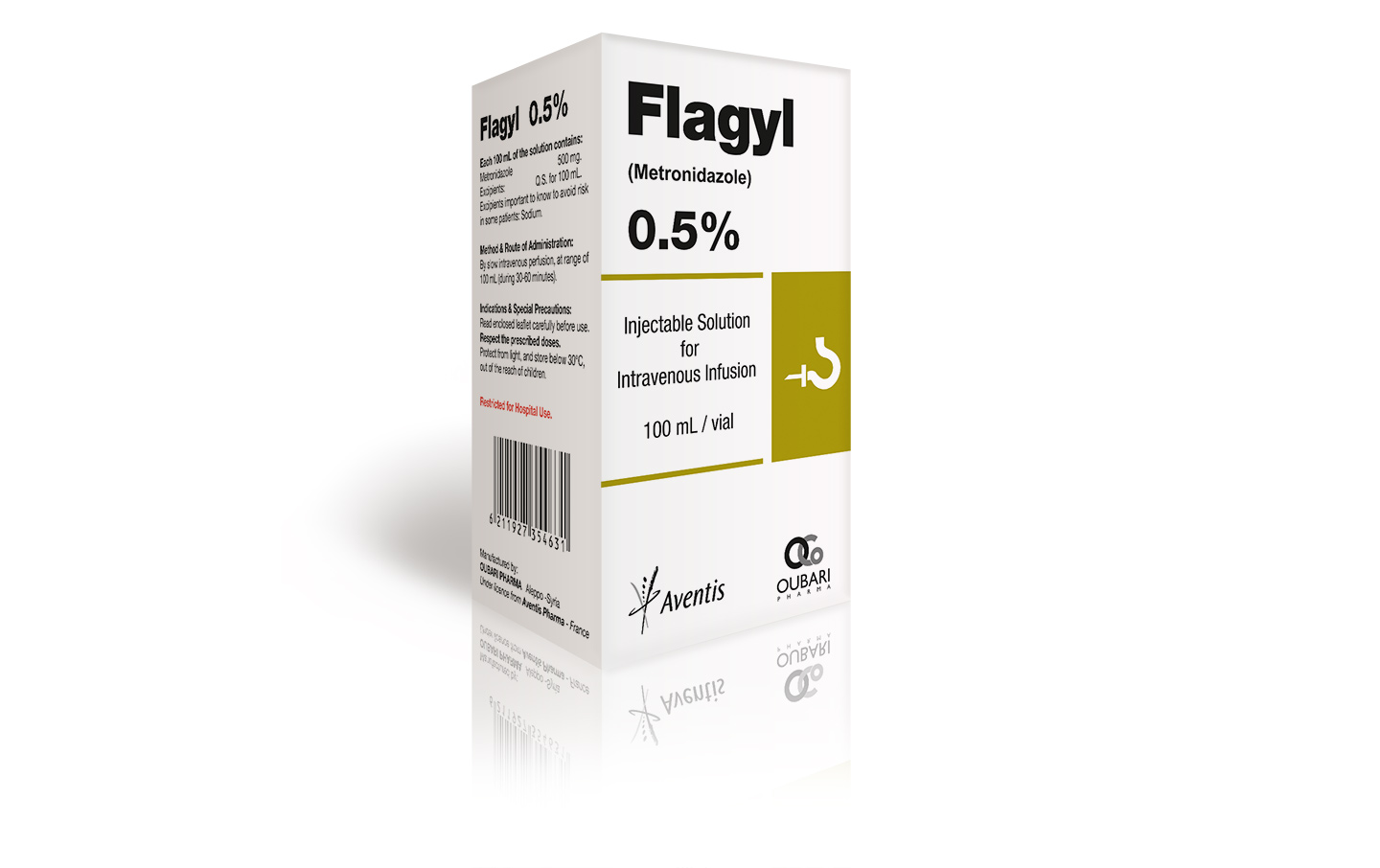 Generic Name: Metronidazole
Dosage Form: Intravenous Infusion
License: Sanofi
Category: Antibiotic
Packaging: 100 mL Bottle
More Info
*Packaging design and product name may be different in your country.
Indications
Flagyl IV Infusion is intended to treat infections due to susceptible pathogens (bacteria & parasites). It is also indicated for prophylaxis of postoperative infections due to susceptible anaerobic pathogens (bacteria growth in the absence of air), and is intended during gastrointestinal or rectal surgery, that in combination with other active antibacterial agent against aerobic bacteria (bacteria that growth in the presence of air).
Composition
Each 100 mL bottle contains:
Metronidazole: 500 mg.
Excipients: S.Q.For one bottle of 100 mL.
Dosage & Administration
Dosage depends on patient's age and on the indication which it is going to be used for.
Adults : 1 g – 1.5 g / day.
Children : 20mg – 40mg / kg / day.
Particular case for the prevention against post-operative infections:
Application should be done in a short period, usually it is limited at the time of surgical intervention, during the 24 hours in some cases, but not more than 48 hours pre-surgical intervention.
Adults: 30 minutes just before surgery, 1 gram as a single intravenous dose.
Children: 30 minutes just before surgery, 20 – 40 mg / kg as a single intravenous dose.
The recommended doses that determined by the doctor should be respected in all cases.
*The information provided above is general in nature and for informational purposes only. It is NOT a substitute for the advice of your doctor. You must always consult your healthcare professional before starting any medication/supplementation program.